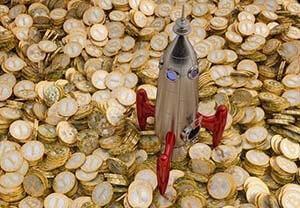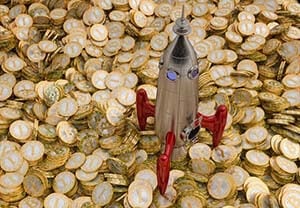 The latest wave of 2016 Bitcoin price predictions exhibit a renewed optimism about the digital currency's prospects.
That's not too surprising, given that the price of Bitcoin doubled from the low $230s to over $480 in just over a month, from late September to early November. And while the Bitcoin price has settled back to about $380 over the past week, it's still about 64% higher than it was six weeks ago.
Coming after months of relative stability in the $200 to $300 range, the sudden spike in the price of Bitcoin reignited interest in the digital currency and its future.
And the 2016 Bitcoin price predictions that have followed reflect a fresh understanding in the disruptive power of Bitcoin's underlying technology, the blockchain. As Bitcoin becomes increasingly integrated into the world's financial system, its value will necessarily rise.
That's because built-in scarcity will combine with the rising demand to push Bitcoin prices up. You see, new Bitcoins are mined at a fixed rate. And only 21 million will ever be created, with the last due in the year 2140.
This 2016 Bitcoin Price Prediction Is Up 50%
Such considerations led Gil Luria, an analyst with Wedbush Securities, to raise his 12-month Bitcoin price prediction from $400 to $600 last week.
"We believe bitcoin and its associated blockchain technology have the potential to disrupt the existing financial infrastructure over the next several years, and believe the value of the Bitcoin currency (BTC) will benefit from this trend," Luria wrote in the report.
Luria's forecast is based on Bitcoin adoption projections out to the year 2025. He estimates that in four main categories – online payments, remittance, micro transactions, and "banking" for the unbanked – Bitcoin will pick up a market share of 10% to 20%.
Luria's $600 is the present value of what he believes the 2025 Bitcoin price will need to be in order to support the dramatic increase in Bitcoin-based transactions over the next 10 years.
Given its limited use right now, Luria says a Bitcoin really only needs a value of about $24 today. In other words, at $380, Luria believes Bitcoin today is $356 higher than it needs to be.
But his Bitcoin price predictions for five years out and beyond are truly eye-opening. Take a look at this…