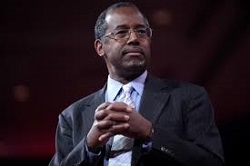 More and more Ben Carson scandals are coming to light. Whether any of them are true is for you to decide...
Last week, Carson battled the media over the factual accuracy of three anecdotes he'd told in his own books.
The lauded Johns Hopkins neurosurgeon is under such increased scrutiny because his popularity is quickly rising. A new poll from Monmouth University released Monday shows Carson eked ahead of rival GOP presidential favorite Donald Trump in South Carolina. Among South Carolina Republicans likely to vote in the February primary, Carson is now favored by 28% to Trump's 27%. The new poll also reflects a huge bump for Carson since August, when he was at 15% in the state and Trump was at 30%.
And according to an ABC News/Washington Post poll released earlier today, Carson is also now ahead of Trump on a national level too. Heading into tonight's fourth GOP presidential debate, 71% of Republicans see Carson favorably, while 69% feel the same about "The Donald."
So out come the smear campaigns.
Here's a look at the three biggest Ben Carson scandals in his campaign right now...
Do You Buy Any of These Ben Carson Scandals?
Ben Carson Scandal No. 1: He was not offered a full-ride scholarship to West Point.
Yes, this scandal is true: Last Friday, Politico posted an article countering claims that Carson was offered a full-ride scholarship to West Point by decorated General Westmoreland. The publication's proof relied solely on the fact that Carson never applied to West Point and that there are no such things as "full scholarships" to West Point.
No, it's a lie: While it's true that West Point does not offer full scholarships, Politico also failed to do its own comprehensive research. Carson went on to explain that that West Point has referred to its benefits as a full scholarship in publications. He made this point in a Facebook post on Sunday and uploaded two West Point recruitment ads targeted at African-Americans that contain the word "scholarship," including one from the 1960s, when he was a student. Furthermore, the financial benefits to attending military academies have been essentially described as scholarship-like or equivalent to a scholarship by USA Today, a West Point spokesperson in Forbes, and the Naval Academy. Consequently, Politico scaled back its story's claims over the weekend - a move that was not widely reported.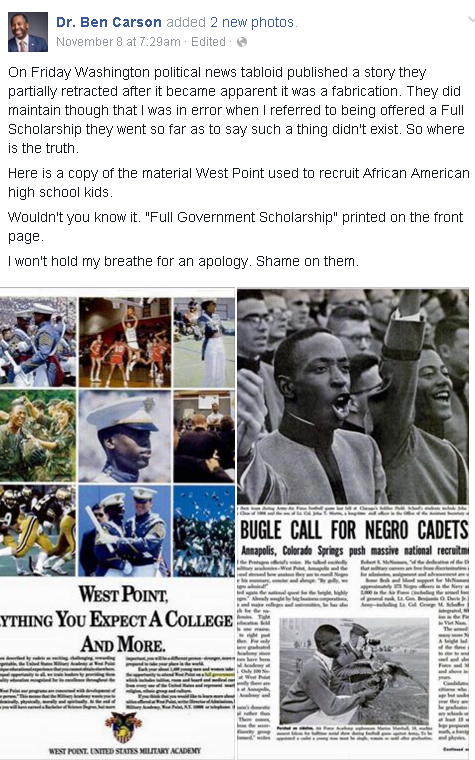 Ben Carson Scandal No. 2: He lied about an exam he took as an undergraduate that proved he was the "most honest man at Yale."
Yes, this scandal is true: Ben Carson's time at Yale University faced renewed scrutiny Saturday after a Wall Street Journal report raised questions about the validity of an anecdote from Carson's 1990 autobiography "Gifted Hands." In it, Carson claimed to have taken a psychology class called "Perceptions 301." He wrote that the professor told students their final exams had been "burned," and they would have to finish a new, more difficult test. Carson said he was the only student to complete the new exam, which was actually a test to determine the "most honest" student in the class. He purportedly was given a $10 bill for finishing the exam, and his photo was taken for Yale's student newspaper.
No, it's a lie: Carson's campaign manager Barry Bennett told The Wall Street Journal that there are no reasons to believe Carson's anecdote is a lie; there's no evidence to point to the fact that they are even questionable. Carson himself also issued a rebuttal via his Facebook page in regards to this scandal as well. He wrote:
On Saturday a reporter with the Wall Street Journal published a story that my account of being the victim of a hoax at Yale where students were led to believe the exams they had just taken were destroyed and we needed to retake the exam was false. The reporter claimed that no evidence existed to back up my story. Even went so far as to say the class didn't exist.
Well here is the student newspaper account of the incident that occurred on January 14, 1970.
Will an apology be coming. I doubt it."

Ben Carson Scandal No. 3: He was not the angry, violent kid he claimed to be.
Yes, this scandal is true: Carson's 1990 autobiography also recounts the surgeon's troubled adolescence when he tried to stab a classmate to death in ninth grade. In Carson's telling, he thrust the knife toward the boy's belly but it struck his belt buckle instead. But CNN reported on Saturday that nine of Carson's childhood friends banded together to discount Carson's story, telling reporters that they do not, in fact, remember the hot-tempered young man described in his book.
No, it's a lie: First, why are these friends just now making an issue of his 1990 autobiography if for no better reason than to get some attention? Second, thanks to a little digging by Buzzfeed's Andrew Kaczynski, evidence that Carson did indeed attempt to stab a friend surfaced via an interview almost twenty years old with his mother.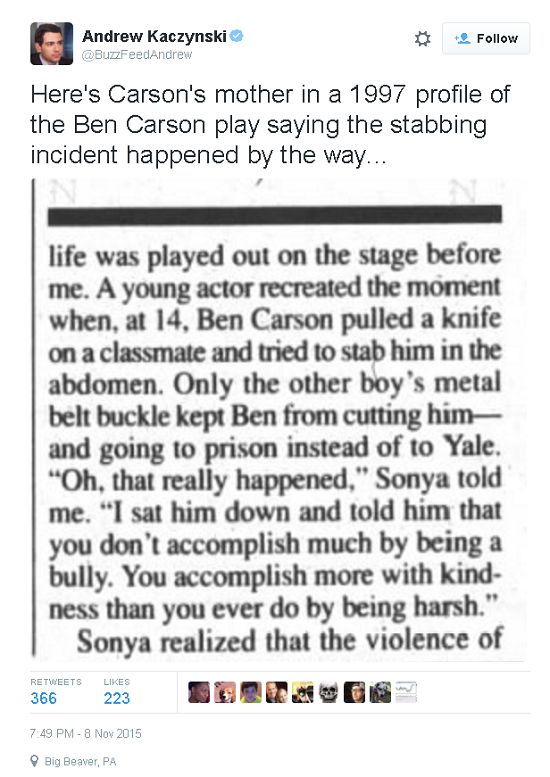 Stay tuned to Money Morning for more on the 2016 presidential election. You can follow us on Twitter @moneymorning or like us on Facebook.
Draw Your Weapons... The smear campaigns have officially started and "election 2016" has garnered some serious search steam. So if you're looking for accurate information on issues like Carson's West Point debacle and Rubio's credit card scandal, look no further. We've done research for you. Here's more on those matters, along with other pertinent stories...
[mmpazkzone name="end-story-hostage" network="9794" site="307044" id="138536" type="4"]