Amid a challenging commodity and emerging market landscape, Goldman Sachs Group Inc. (NYSE: GS) quietly shut its BRIC investment fund last month, marking the end of an era for the investment bank.
Since the move on Oct. 23, GS stock has climbed 7.3%.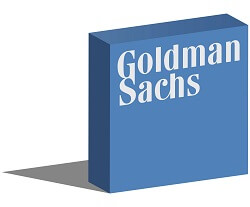 The fund's $100 million in assets were folded into Goldman's $322 million emerging markets equity fund.
In a regulatory filing with the U.S. Securities and Exchange Commission (SEC), Goldman said it didn't expect the fund "to experience significant asset growth in the foreseeable future." The fund's assets had fallen by 88% over the last five years.
Goldman still recommends that clients have an exposure to emerging markets. However, the firm believes a combined BRIC and emerging market equity fund "would be better positioned for asset growth" than a standalone BRIC fund, according to the filing.
The story was first reported this weekend by Bloomberg. GS stock traded as high as $197.35 today. That's a modest gain of 0.3% from yesterday's closing price for GS stock.
Why Goldman Shuttered BRIC Fund, and What's Next for GS Stock
Goldman's BRIC fund provided investors with a way to wager on the growing economies of Brazil, Russia, India, and China. The fund was launched in 2006 after then Goldman Chief Economist Jim O'Neill coined the acronym BRIC.
Investors enjoyed healthy returns from Goldman's BRIC fund during its early years. Fueling gains were China's unprecedented growth and the Asian nation's insatiable appetite for commodities.
But despite the rapid economic expansion in those countries over the last 15 years, growth has decelerated. It's now expected to remain sluggish, according to the World Bank's October 2015 outlook. Oil, natural gas, coal, iron ore, copper, and nickel prices are all projected to be sharply lower for FY2015 and through 2016.
China is facing its slowest GDP growth rate in nearly a quarter of a century. More than 50% of the BRIC fund is invested in China, according to Goldman's latest fund report.
And this year's rout in commodity prices took the widely followed Bloomberg Commodity Index to 2002 lows this summer.
Russia continues to struggle amid the 43% year-over-year decline in oil prices, as well as Western sanctions imposed after its invasion of Ukraine last year. Meanwhile, Brazil's currency (the Brazilian real) fell to its lowest level since the currency's introduction two decades ago.
Goldman's BRIC wasn't the only emerging market fund that sputtered in 2015. Emerging equity funds overall have shed about $60 billion so far this year.
Investments in commodity index products have also suffered, totaling just $135 billion in September. That was the lowest tally since the Commodities Futures Commission started tracking such data in 2007. In 2011, investments eclipsed $250 billion.
In Q3 2015, retail and institutional commodity investments were down more than 50% from their 2011 peak, according to Citigroup estimates.
Goldman investors are hoping the shuttering of the BRIC fund will boost the GS stock price. Year to date, GS stock has climbed just 1.7%. That's barely better than the 1% gain the S&P 500 has posted this year.
Analysts surveyed by Thomson/First Call have an average price target of $208.71 for GS stock.
That would be a gain of 5.7% from today's high.
Stay informed on what's going on in the markets by following us on Twitter @moneymorning.
Related Articles: