Wednesday is Veterans Day, a federal holiday, leaving many investors asking, "Is the stock market closed on Veterans Day?"
The answer is no, the stock market will be open as usual on Veterans Day.
That's because the stock market is not federally run. The stock market's holiday schedule and trading hours are set by exchange officials, not the U.S. government.
Currency and commodity markets will also be open on Veterans Day.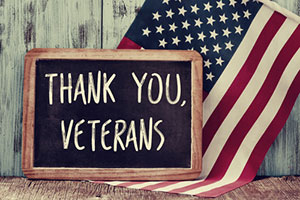 However, the bond market will be closed because of the federal holiday. That means the U.S. Treasury Department is closed, meaning Treasury bonds, bills, and notes cannot be traded. In what would be a quiet and low volume day, bond traders get the day off.
All federal offices, including the IRS and Social Security offices, will also be closed on Wednesday.
The U.S. Department of Veterans Affairs states that state and local governments, including schools and libraries, are not required to close on Veterans Day. But most choose to close in observance of the holiday. In recent years, most state offices, such as the Department of Motor Vehicles, have also opted to close.
Most federal workers are given the day off, and there is no U.S. mail service. Many schools are closed, as are most banks. Bank of America, Chase, and Wells Fargo will close their doors on the federal holiday. TD Bank branches, however, will be open regular business hours on Veterans Day.
"Is the Stock Market Closed on Veterans Day?" and Other Facts
Veterans Day is dedicated to anyone who has served in the U.S. military.
The holiday began as a day to commemorate the end of World War I and was declared by President Woodrow Wilson in 1919.
Nov. 11 was chosen as the official date for Veterans Day in reference to the ending of World War I. Germany signed an armistice with the Allies that signaled the end of the war at 11 a.m. on Nov. 11, 1918.
Originally known as Armistice Day, the holiday became Veterans Day in 1954 by Congress. With the name changed to Veterans Day, veterans of World War II and the Korean War were also recognized. Today, all U.S. military personnel are honored on Veterans Day.
In 1968, Veterans Day was moved to the last Monday of October when President Lyndon B. Johnson signed the Uniforms Holiday Act. The Act of Congress amended the federal holiday provisions of the United States Code to establish the observance of certain holidays on Mondays.
In 1975, President Gerald Ford moved the holiday back to November 11, starting in 1978. The date stands today.
Stay informed on what's going on in the markets by following us on Twitter @moneymorning.
The Global Wealth Gap Is Now Alarmingly Wide: The top 0.7% of people in the world now control more than 45% of the entire world's wealth. But it's not just the lower class that's suffering. The global middle class is controlling less and less wealth every year…
Related Articles: