We are bombarded with a torrent of "election 2016" news coverage every day now…
A Google search of that very term, "election 2016," yielded more than 292 million news results today. That's seven million more searches than the term rendered Monday. That may not be such a surprising uptick considering the FOX Business GOP debate that aired Tuesday evening. The showdown had Twitter and Facebook a-flutter – so much that it's difficult to parse through all the information.


That's why we at Money Morning have gathered the latest, most relevant 2016 election news to keep you updated on what's happening in the world of politics.
Here's everything you need to know today…
Biggest Election 2016 News Right Now
The tension between Florida Sen. Marco Rubio and former Florida Gov. Jeb Bush isn't over just because it's grown quieter in recent days. During back-to-back morning show appearances today, Rubio addressed the report that Bush's super PAC would be spending $20 million for an assault on his campaign. "Obviously if we're attacked, we're going to respond. But ultimately we can't control other people's campaigns if they decide that attacking us is the way forward; they have a right to make that decision," Rubio said on "The Today Show." "It's wrong. It's not going to change my campaign."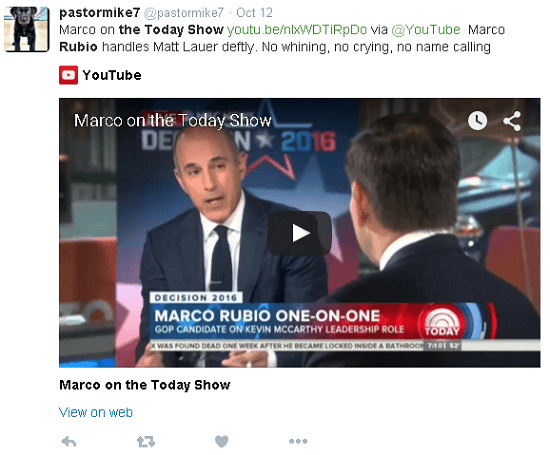 GOP presidential candidate Donald Trump did not take advantage of an opportunity to attack GOP rival Ben Carson on Wednesday morning. "The Donald" appeared on MSNBC's "Morning Joe" and said, "I don't want to be critical, I like him. Ben and I have gotten along well over the period of time. I've become friends with a lot of the people that are up there."
Apparently, a poltical strategist slyly observing from a hallway last night overheard GOP presidential candidate John Kasich complain to the FOX Business moderators during a commercial break that he wasn't getting enough time. According to Politico, the strategist said, "[Kasich] went up to moderators during the break presumably to complain about not getting time. Thought he was about to flip his podium over when fellow presidential hopeful Kentucky Sen. Rand Paul got in that China point on TPA and Kasich didn't get called on. Think this is first time I've seen that happen this cycle."

FOX Business Network moderator Maria Bartiromo was briefly booed by a Republican-friendly debate crowd Tuesday night when she brought up former Secretary of State Hillary Clinton's résumé. Near the end of the debate, Bartiromo was interrupted when she asked the candidates to compare their records against Clinton. Bartiromo said Clinton has an "impressive résumé," provoking the audience reaction.
The second Democratic debate on Saturday, Nov. 14, will be the first since the Democratic field narrowed to three candidates: former Secretary of State Hillary Clinton, Vermont Sen. Bernie Sanders, and former Maryland Gov. Martin O'Malley. John Dickerson, the host of CBS News' "Face the Nation," will be one of the event's four moderators, assisted by Nancy Cordes, CBS' congressional correspondent; Kevin Cooney, anchor for KCCI-TV, the local CBS affiliate; and Des Moines Register political columnist Kathie Obradovich. The debate will air on CBS at 9 p.m. ET.
Stay tuned to Money Morning for more on the 2016 presidential election. You can follow us on Twitter @moneymorning or like us on Facebook.
 So You Want to Be a Hillionaire: Recent history suggests Hillary Clinton could rise to the top and, in the process, make savvy investors millions. We hope so. What we have to tell you is a story based as much on rhetoric as reality. It's built on an opportunity that cuts deeply and, to be perfectly blunt, may be offensive depending on your personal views…