How did Trump do in the debate Tuesday night?
The verdict depends on personal attitudes toward the blunt Republican front-runner.
On the plus side, Donald Trump's bombastic persona has remained consistent throughout his campaign -- good for voters who support his approach.
However, in this fourth GOP debate, Trump did not have his best night.
It started out swimmingly enough...
How Did Trump Do in the Debate: A Breakdown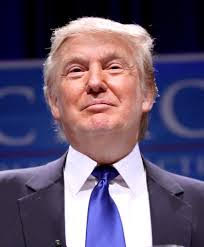 He and seven other candidates took the Milwaukee, Wis., stage. The outspoken billionaire is neck-in-neck with Dr. Ben Carson, according to the latest McClatchy-Marist survey released Tuesday, which puts Carson at 24% and Trump at 23%.
Before the verbal festivities commenced, moderators Neil Cavuto and Maria Bartiromo reiterated that there was one core theme to the debate: the economy. No more, no less.
Sign up for SMS so you never miss special events, exclusive offers, and weekly bonus trades.
Right away, Trump was asked if he was sympathetic to those pushing for a minimum wage hike to $15.00 an hour, especially given that his tax plan allots a zero-income tax clause to individuals making $25,000 or less annually. Under Trump's proposal, a minimum wage hike would put individual's annual income to approximately $31,000 a year, noted Cavuto. Trump responded favorably, and was met with the crowd's cheers:
"This country has been beaten on every front," Trump said. "Wages too high and taxes too high... we're not going to be able to compete against the world. [The U.S. taxpayers] have to go and work really hard. I would not raise the minimum wage."

Then, immigration reform came up - a topic for which Trump has polled extremely well throughout the presidential race so far. Again, Trump touted his "wall campaign":
"There will be a wall. And if you think walls don't work, ask Israel."
Then it got shaky. When asked if he'd send 50,000 immigrants back, Trump said, "They're going to have to go out. They can come back, but they're gonna have to go out."
Florida Gov. Jeb Bush and Ohio Gov. John Kasich immediately criticized the practicality of Trump's wall and deportation plans. Kasich insisted the businessman's proposal "makes no sense" and stressed that such a plan would ultimately make a Republican candidate unelectable against Hillary Clinton in the main election.
"Come on, folks," the Ohio governor said. "We all know you can't pick them up and ship them across, back across the border. It is a silly argument. It is not an adult argument."
Trump fired back: "All I can say is, you're lucky in Ohio that you struck oil." He then praised Eisenhower's deportation plan, claiming that more than a million illegal immigrants were successfully returned to Mexico.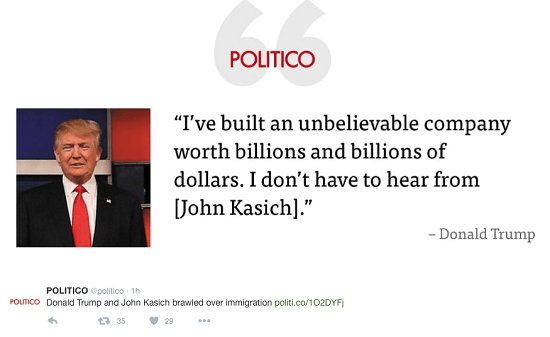 But then what began as a fairly Trump-heavy debate took a turn for the quiet. When the subject of flat tax rates surfaced, Trump didn't get a word in edgewise for a good 15 minutes. Eventually, he did manage to add, "We all have a different tax plan, some I don't agree with. But each one is better than the one we have now." The lack of detail left many viewers hungry for specifics.
Arguably, Trump's lowest moment came during the last third of the debate when, upon being asked about his take on the Trans-Pacific Trade Deal (TPP), he said, "It's a horrible deal so China can come in as they always do - through the back door. It's six thousand pages long. It's a weapon."
The problem with Trump's argument? China was not included in the trade deal. This is where Kentucky Sen. Rand Paul jumped in to remind him of that. And Trump came off as not having done his homework.

#GOPDebate Tweets
The Ben Carson Tax Plan:

Republican presidential nominee and decorated retired neurosurgeon Dr. Ben Carson revealed his tax proposal on CNBC's "Squawk Box." His proposal comes in three parts,
one of which is instituting a 10% flat tax...