I'm often asked during presentations around the world for my favorite money-making tip, and without fail I come back to the same one every time.
It's one of the simplest, yet most powerful wealth-building tactics available to individual investors today.
Plus, it's a great equalizer. It lets you take away the advantage normally enjoyed by Wall Street's biggest, most ruthless traders. And, in the process, buy the stocks you want at exactly the price you want to pay.
We've talked about this tactic before. But now, with the markets dancing around new highs and the Fed making noises about a rate hike in December, I think it's a great time to revisit the subject.
I believe you will be thrilled by how easy it is to use, especially when you understand that you don't have to sit in front of your computer screen all day to bank the kind of profit potential most people only dream about.
In short, it'll help you master the markets. Let's get started…
Lowball Orders: Effective and Simple
The tactic I'm talking about is the lowball order.
There are three reasons to love it:
You can place lowball orders in advance.
You don't have to be at your computer to lock in profit potential.
You control risk by buying only when the stocks you want are trading at exactly the price you want to pay.
Lowball orders are technically "limit" orders. That's Wall Street-speak for an order to buy or sell shares at a specific price or better. Unlike "market" orders, which go into effect the moment you place them, limit orders trigger only when prices reach the limits you've specified.
So, for example, Apple Inc. (Nasdaq: AAPL) is trading at roughly $120 a share right now, but you think $110 is what you'd like to pay. Obviously nobody knows whether the stock will drop to those levels. But that shouldn't stop you from preparing for the possibility.
The point of a lowball order is to pay the price you want. Whether that happens today, tomorrow, or six months from now is moot. To paraphrase my grandfather, who played baseball in the 1920s, you miss 100% of the swings you never take.
Lowball orders help you prepare in advance for conditions that favor your money. Placing them doesn't cost you a thing, and you're not risking one red cent until the order executes and you're off to the races.
How to Place a Lowball Order
As these four steps show, using a lowball order is pretty simple.
First, you line up with one or more of the Unstoppable Trends we're following: Technology, Medicine, War, Terrorism & Ugliness, Demographics, Scarcity/Allocation, or Energy.
Second, you select a stock that's beaten down or otherwise out of short-term alignment with long-term valuations, fundamentals, and earnings potential. Ideally, it's not just any old stock. I talk frequently about maintaining a "buy list" of companies you want to own if you get the opportunity to pick them up at a dramatic discount. To me, this is Apple at $70, Tesla at $200, or even Facebook at $60. Your list may differ; my point is that you have a list… at all times.
Third, you pick an entry price that matches your expectations, your risk, and your belief about what your intended purchase is really worth.
In most cases, lowball orders align nicely with logical "support" or previous lows that can be chosen based on the time frame you're trading. While there is no hard-and-fast rule here, many traders find being within 10% and 15% of the most recent annual low is fertile hunting in choppy markets.
And, finally, you place your order to "buy XYZ at $ or less GTC" – meaning "good till canceled."
Then you wait for prices to come to you. Why really doesn't matter. It can be an overreaction to "bad" news, a sector pullback, a down day in the market, China, Putin's latest move, or anything else that causes emotional angst.
What you're hoping to catch is exactly the type of unusually large market move that crushed so many investors on Aug. 24 when the Dow plunged 1,000 points. Your goal is to buy at levels others believe are "impossibly low" at a time when your competition is not thinking clearly.
Now, what I am talking about is NOT market timing.
Lowball orders are very carefully planned "profit-traps" that are laid out in advance. You set them in place to take advantage of conditions that favor you as opposed to the institutional traders who normally dominate the markets and whose express goal is to separate you from your money.
Let's look at a few examples.
Walt Disney Co. (NYSE: DIS) took off on a furious run last January, leaving anybody not on board in the dust. On Aug. 25, the stock tumbled to $90 a share. On Nov. 2, it closed at $113 for a quick 25.55% gain.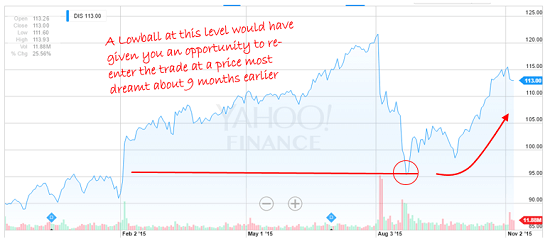 The same day, Apple fell to $92 a share. It closed Nov. 2 at $120.92 for a 31.43% gain.
Join the conversation. Click here to jump to comments…
About the Author
Keith Fitz-Gerald has been the Chief Investment Strategist for the Money Morning team since 2007. He's a seasoned market analyst with decades of experience, and a highly accurate track record. Keith regularly travels the world in search of investment opportunities others don't yet see or understand. In addition to heading The Money Map Report, Keith runs High Velocity Profits, which aims to get in, target gains, and get out clean, and he's also the founding editor of Straight Line Profits, a service devoted to revealing the "dark side" of Wall Street... In his weekly Total Wealth, Keith has broken down his 30-plus years of success into three parts: Trends, Risk Assessment, and Tactics – meaning the exact techniques for making money. Sign up is free at totalwealthresearch.com.