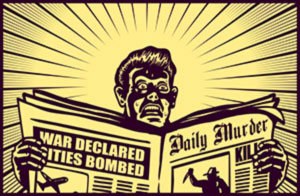 U.S. markets swayed this week from fresh data, Wall Street dealings, and life-changing global events…
It's the numbers that count in this crazy world. They can tell stories that words sometimes can't.
Here's a look at some of the most fascinating, infuriating, amusing, depressing, and altogether important numbers that the world has put up on the board recently – and why you need to know them…
9: How many years have passed since the last time interest rates went up. A slew of U.S. Federal Reserve officials spoke on Thursday. They clued the public in on the chances of a December Rate hike. Fed Chairwoman Janet Yellen called a December liftoff a "live possibility." If the Fed acts, a few companies – the ones overloaded with debt – are doomed. A few of them are household names…
$170.4 million: The amount "Nu Couché," a painting by the artist Amedeo Modigliani, sold for at a Christie's auction on Monday. That's the second-highest price ever paid for an artwork at an auction. The buyer is Liu Yiqian, a former taxi driver turned billionaire art collector from Shanghai. Art is currently one of the most popular alternative investments – the last decade has seen a steady increase in the top auction prices for singular works. Read this five-minute guide for a rundown on all the best alternative investments right now.
8: How many Republican 2016 presidential candidates pitched their economic plans on Tuesday night. The fourth GOP debate of the year was hosted by FOX Business in Milwaukee. Moderator Neil Cavuto peppered the hopefuls with questions on all things economic policy. Here's who had the best answers…
100 million: How many customers had their private information stolen in the largest-ever U.S. bank data breach that included institutional names like JPMorgan Chase & Co. (NYSE: JPM) and Fidelity National Information Services (NYSE: FIS). On Tuesday, the three men responsible – two Israeli and one American – were charged. The suspects were purportedly part of a secret group of hackers that for years had allegedly been laundering stolen money through dozens of shell companies and bank accounts under fake names. You'd really be shocked at how many Fortune 500 companies have been hacked…
5: How many days Diwali, India's biggest national holiday, lasts. The "Festival of Lights" kicked off on Wednesday. Diwali has a special impact on gold prices. Buying in the country increases during the festival, pushing the price of gold up globally. That's because India houses the world's second-highest demand for the yellow metal. Here's the key to how valuable gold really is – it's something a lot of investors are missing…
$3.8 trillion: The size of the enterprise market that Apple Inc. (Nasdaq: AAPL) is now aggressively pursuing…
25%: On Wednesday, Fidelity marked down the value of its stake in social media app Snapchat by that amount. Snapchat is one of the most highly valued private companies in the United States and boasts 100 million daily users. But many question the company's ability to monetize all those users. Here's how Snapchat makes money…
$1,000,000: How much money would have been forfeit had the president of the University of Missouri not stepped down on Monday. Dozens of football players said they'd boycott the sport until he resigned for failing to handle racial tension on campus. Football clearly has a big impact on a bottom line. That's why the DraftKings IPO promises to be one of 2016's biggest – even after scandal…
$600: Wedbush Securities raised its 12-month Bitcoin price target 50% from $400 to $600. Our resident Bitcoin expert David Zeiler wasn't surprised by the doubling – he explained why right here…
-10.22%: How far shares in BlackBerry Ltd. (Nasdaq: BBRY) have fallen this week, following at 5.53% gain last Friday, Nov. 6. That day, the company launched its first Android-based device known as BlackBerry Priv. There is a lot riding on Priv, as BlackBerry may abandon building smartphones if its latest offering is not successful. Hint: We don't think it will be successful.
Tweet the author @TaraKateClarke, or leave a comment on Money Morning's Facebook page.