This week I bought more American Eagles.
My wife and I keep lockboxes – one for each of my three children – in secure places, and every month I buy and throw a few more gold coins in each one.
That strategy may look old-fashioned. But soon it will look smart.
In fact, I view these boxes as the single most "sure" asset I own. And now's the moment to fill them up.
I'm sure it's no surprise to you that I like gold. But here's the key to how valuable gold really is – it's something a lot of investors are missing…
Gold: The Last Currency Standing
Gold has had a rough year. It's trading around $1,090 an ounce today, about the same price as 2010 – and 43% below its all-time high of $1,900 set in 2011. Year to date, the gold price is down 7.4%.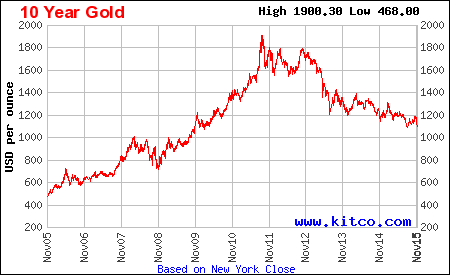 For me and you, that's actually a good thing.
Low gold prices give those of us who understand that central banks are destroying the global financial system a chance to buy more before it rises sharply in price.
Gold should no longer be thought of as just a commodity in a monetary system driven to ruin by central bankers printing tens of trillions of dollars in a desperate attempt to stave off the insolvency of bankrupt governments whose politicians don't have the guts to cut spending and adopt pro-growth fiscal policies.
Instead, gold is the anti-paper currency. When central banks are done destroying the value of paper money, gold will be the last currency standing.
The financial world, which basically consists of wits and wags, is holding its breath right now waiting to see if the Fed will raise interest rates by a measly 25 basis points for the first time in nine years! This is pathetic – but it is also a warning sign that paper currencies are being epically mismanaged by so-called monetary authorities that actually have no idea what they are doing.
Just look around. The United States is considered the strongest economy in the world. Yet we haven't managed to grow our economy faster than 2% a year since the financial crisis.
Moreover, we did that with the Federal Reserve buying $4 trillion of government debt, which is now sitting on its bloated balance sheet, while it lowered interest rates to zero.
Anyone who believes that has changed, or the reason for owning gold has disappeared, is not paying attention. Investors should continue to own gold and save themselves.
Here are a few ways to stock up today…
Join the conversation. Click here to jump to comments…
About the Author
Prominent money manager. Has built  top-ranked credit and hedge funds, managed billions for institutional and high-net-worth clients. 29-year career.