The GoPro stock price tanked another 8% in morning trading today (Friday), and the stock has now fallen more than 66% in the last two months.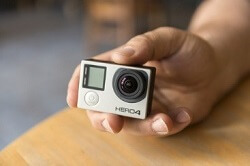 GoPro Inc. (Nasdaq: GPRO) dipped to an all-time low of $20.77 per share today. GPRO is now down 13.5% from its IPO price of $24 from June 2014.
The GoPro stock price continues to fall as short sellers relentlessly attack the stock. According to FactSet, short interest in GPRO jumped to 33.2 million shares as of Nov. 1. That's more than four times higher than the short interest of 8.2 million GPRO stock had this time last year.
Money Morning Chief Investment Strategist Keith Fitz-Gerald was ahead of this trend, telling his readers to short GPRO stock at $31.22 per share. Investors who followed his advice are now sitting on a 33.5% gain.
And Fitz-Gerald says anyone thinking of buying into GoPro stock at these low levels should think again.
"News broke last week that GoPro is being sued by Polaroid's maker for possible patent infringements related to its cubicle cameras," Fitz-Gerald warned. "And that's on top of intensifying competition from Xiaomi, Apple, and plenty of smaller and nimbler companies that are creating innovative image-enhancing technologies that steadily undermine what GoPro has on offer."
Even though the GoPro stock price has fallen all the way to $20.77, Fitz-Gerald set a much lower price target for GPRO in October. Last month, he said the GoPro stock price should be $15 per share.
"Driven by hype and very clever investment banking, stocks that are breathlessly celebrated by Wall Street often have terrible fundamentals and little or no promise of ever enriching anybody except their founders and early VC investors," Fitz-Gerald said. "Yet they rise like a rocket after their initial public offering, luring millions of investors to their financial demise."
Follow us on Twitter @moneymorning or like us on Facebook.
The Global Wealth Gap Is Now Alarmingly Wide: The top 0.7% of people in the world now control more than 45% of the entire world's wealth. But it's not just the lower class that's suffering. The global middle class is controlling less and less wealth every year...