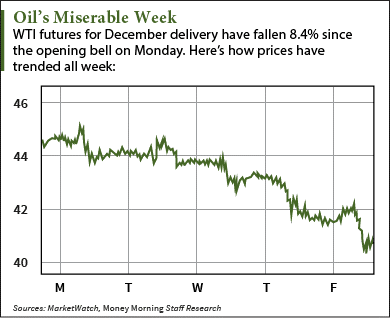 The WTI crude oil price today (Friday) fell 2.8% after the International Energy Agency (IEA) released a startling report on global oil supply.
At 12:45 p.m., the WTI crude oil price today was trading at $40.59 a barrel. That's the lowest intraday level since late August and puts U.S. oil prices on track for the biggest weekly loss since March. WTI is down 12.9% in November so far.
Brent crude oil prices today are less volatile. The global benchmark ticked down 0.6% to $43.79 a barrel. Prices have dropped 7.7% this week and 11.6% this month.
The decline in the WTI crude oil price today came after the IEA said inventories held by the 34 countries in the Organization for Economic Cooperation and Development (OECD) stood near 3 billion barrels in September.
Global demand growth is expected to slow to 1.2 million barrels a day in 2016 from 1.8 million barrels this year. That forecast – plus expectations for a mild winter – have investors worried prices will keep declining.
"This could protect the market from a supply crunch should there be a lengthy spell of cold temperatures," the IEA report said. "But the current forecast is for a mild winter in Europe and the U.S. If it turns out to be true, bulging stock levels will add further pressure and oil market bears may choose not to hibernate."
More bearish data came from Baker Hughes Inc. (NYSE: BHI) today. The oilfield services firm reported the number of U.S. oil rigs increased by two to 574 last week. That marks the first weekly rise in nearly three months.
According to Money Morning Global Energy Strategist Dr. Kent Moors, there's a way to profit from the increased rig activity.
All you have to do is target companies performing this type of drilling…
Follow us on Twitter @moneymorning.
Like us on Facebook: Money Morning