The gold price today rose more than 1.4% in early trading to a 10-day high of $1,098.90. Investors piled into the safe-haven asset Monday following the weekend attacks in Paris that killed at least 129 people.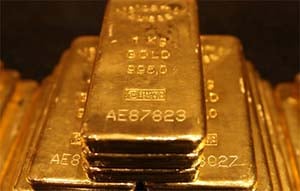 Gold is the go-to "flight to safety" asset. The precious metal has long been used as a store of value during periods of heightening global uncertainty and risk.
In the first 10 minutes of gold's trading session Monday, nearly 3,000 contracts changed hands. That's almost 10 times the average for the opening 10 minutes over the past two months, according to Reuters.
Before the hike in the gold price today, prices started moving higher in New York Friday afternoon as news of the tragedy in Paris began to unfold.
Before Monday's gains, the gold price had fallen in 12 of the last 13 sessions. Increased odds of the U.S. Federal Reserve hiking interest rates in December had pushed gold prices lower.
As of Friday, about 92% of economists polled by The Wall Street Journal said they expect the Fed to lift rates at the conclusion of its Dec. 15-16 FOMC meeting.
The yellow metal sank to a low of $1,074.25 an ounce intraday Thursday, its lowest level since February 2010. The gold price swooned amid a number of speeches by Fed officials suggesting more FOMC voting members have turned hawkish. The gold price today is up 2.3% from Thursday's low.
New York Federal Reserve President William Dudley, a noted dove, told an audience in New York Thursday, "it is quite possible that the conditions the committee has established to begin to normalize monetary policy could soon be satisfied."
Precious metal traders swiftly reacted. In one minute Thursday, some $500 million of gold contracts traded on the Comex.
Gold's traditional role as a safe-haven asset has diminished in 2015 because of the Fed interest rate discussion. A rate increase will boost the dollar, making gold more expensive to investors who purchase the precious metal via foreign currencies. An interest rate hike would also make interest-bearing securities more attractive, especially to yield seekers.
Still, the Fed maintains it will remain accommodative for a long time. Further rate increases will be gradual and moderate...
The Gold Price Today Still Impacted by Fed Decision
"Once the Fed finally raises rates, however minimally, at least the anticipation and uncertainty will have been removed," said Money Morning Resource Specialist Peter Krauth. "And that could be enough for gold to begin carving its path higher."
While many expect a December rate hike, the move is not guaranteed...