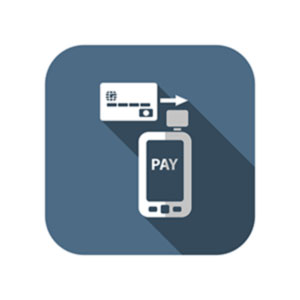 The Square IPO will price this Wednesday, Nov. 18. The deal is one of the most anticipated tech IPOs of the year. Square plans to raise up to $351 million by selling 27 million shares for $11 to $13 each.
With the company hitting the market this week, investors are wondering if investing in Square stock is a smart decision.
That's why we developed a three-step strategy for those thinking about investing in Square stock.
But first, here's what investors need to know about the Square IPO...
Investing in Square Stock: The Basics and Financials
Founded in 2009 by Jack Dorsey and Jim McKelvey, Square Inc. (NYSE: SQ) provides a mobile payment service for phones and tablets. Its primary product is the Square Reader software, which plugs into a standard headset jack on mobile devices and lets people take credit and debit card payments. Each Reader costs about $10.
The Square IPO comes less than two months after CEO Jack Dorsey became permanent CEO of Twitter Inc. (NYSE: TWTR). Dorsey will be dividing his time and attention between the two tech companies. His dual leadership with his two "children" leaves investors wondering if he'll be able to head two publicly traded companies.
In fact, Dorsey himself was listed as a risk in the Square IPO filing...
"This may at times adversely affect [Dorsey's] ability to devote time, attention, and effort to Square," the filing said.
And that's not the only risk facing SQ stock. The company is also not profitable...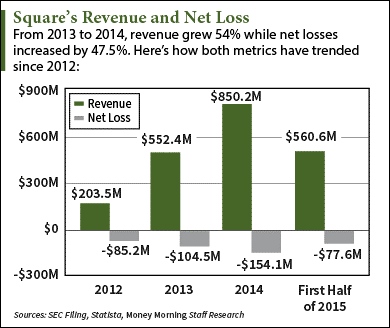 During the first half of 2015, Square earned $560.6 million in revenue, up 51% from the first half of last year. About 11% of this year's sales have come from its partnership with Starbucks Corp. (Nasdaq: SBUX), which has been selling Square Readers at U.S. locations since 2013.
However, Square has actually lost $71 million since the partnership started. Starbucks has ended up accounting for 21% of Square's transaction costs this year. The firm is already in a $77.6 million hole this year and stated in the IPO filing it "may not achieve or maintain profitability."
Another challenge the firm faces is the volatile IPO market. There have been only 18 tech IPOs this year - the lowest number of tech deals since 2008. According to Renaissance Capital, a manager of IPO-focused ETFs, all 2015 IPOs have seen an average decline of 4.3%.
IPO investing is dangerous even when the sector is booming. That's because traders who aren't hedge fund managers or Wall Street bankers can see huge losses if they don't follow a diligent strategy.
"IPOs are little more than a get-rich-quick scheme that's so heavily stacked against you that it makes the house odds in Vegas seem downright conservative," said Money Morning Chief Investment Strategist Keith Fitz-Gerald. "I say that because you are literally the last in a long line of people who are going to profit from the IPO process."
Without a proper strategy for investing in IPOs, retail investors can get burned. Here's the safest strategy for investing in Square stock...