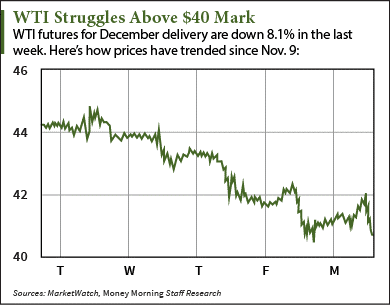 WTI crude oil prices today (Monday) declined 1.1% as traders continue to worry about rising production, even following geopolitical concerns over the Paris terrorist attacks on Friday.
At 10 a.m., WTI crude oil prices were trading at $40.30 a barrel. The U.S. benchmark fell 8% last week, the biggest weekly loss since the second week of March. Futures are down 13.5% so far in November.
Meanwhile, Brent crude oil prices dropped 1.8% to $43.66 a barrel. Futures for the global benchmark declined 7.7% last week and are down 13.2% this month.
The decline in WTI crude oil prices today comes as traders remain more focused on rising U.S. output than supply disruptions in the Middle East.
France launched a series of airstrikes on ISIS bases in Syria this morning in retaliation for the organization's attacks. On Friday, ISIS carried out coordinated terrorist attacks throughout Paris that left at least 129 people dead and more than 350 injured. They are considered the deadliest attacks on French soil since World War II.
Geopolitical events like this typically boost oil prices because they can affect production and shipping operations. These interruptions also temporarily reduce supply.
However, investors see rising U.S. production as the dominant bearish force on the market. Recent data from the U.S. Energy Information Administration (EIA) shows U.S. output totaled 9.2 million barrels a day for the week ended Nov. 6. That's a 10.5% increase from the same week a year ago.
Many investors don't understand why production is rising if there's an ongoing supply glut. After all, U.S. oil inventories have been at 80-year highs for the last few months now.
According to Money Morning Global Energy Strategist Dr. Kent Moors, there are two factors pushing production higher in the face of excess supply.
And the best part is you can still profit from both of them…
Alex McGuire is an associate editor for Money Morning who writes about energy. Follow him on Twitter for all of the biggest oil and gas updates.
Like us on Facebook: Money Morning