Commodities prices have essentially crashed.
The Thomson Reuters/CoreCommodities CRB Commodity Index peaked near 365 in 2011. Today it sits at just 189, a brutal loss of more than 48%. Gold, silver, oil, natural gas, uranium, coal, iron ore, and copper are all at or near multiyear lows.
It's been devastating for companies producing them and countries dependent on exporting them.
But by definition, commodity production is a cyclical business, and what goes down simply must come up.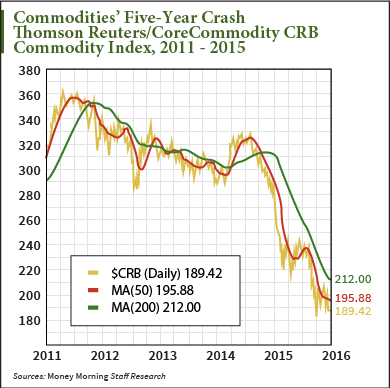 In fact, there's so much upside potential at the other end of this sector-wide slump that my eyes have been glued to some important indicators - including some that few others are looking at.
When a bottom and recovery develops, it will appear here first. That will give us the earliest opportunity to capture gains on the way up.
I really like what I see right now. Let me show you...
Commodities Recovery Indicator No. 1: When the Big Buyers Are Buying
One significant indicator is the JPMorgan Global Purchasing Manager's Index (PMI).
Fund managers U.S. Global Investors Inc. (Nasdaq: GROW) track the global PMI carefully because it has historically anticipated the direction of commodities months in advance.
According to U.S. Global Investors, "when a PMI 'cross-above' occurs - that is, when the monthly reading crosses above the three-month moving average - it has signaled a possible spike in certain commodities, materials, and energy. Three months following previous breakouts, copper had an 81% probability of rising approximately 7%, while crude oil jumped 7% about three quarters of the time."
That's powerful stuff. And here's how it looks on a chart.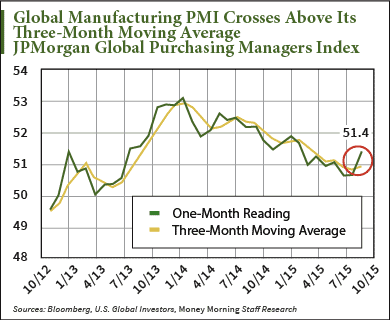 What's more, U.S. Global says commodities gain sufficient momentum to surge ahead when U.S., Europe, China, and global PMI readings all print above 50.0, "with the one-month readings above the three-month trends."
So far, only China has yet to cross above 50.0, though it has been trending higher in the last couple of months, reaching 48.3 in October.
We'll keep a close eye on just when that final signal comes in.
Commodities Recovery Indicator No. 2: The Investor "Herd Mentality"
Another relevant indicator has to do with sentiment - but it's not what you think.
You see, the investing crowd typically is a great predictor of doing the right thing at exactly the wrong time. That makes market sentiment a great contrarian indicator.
One of the best measures of this comes from research service Sentimentrader.com. The company has developed a proprietary "Optix" indicator that it applies to the CRB Commodity Index.
In December last year, the CRB Optix dipped below 30. That level has tended to mark the beginning of an inflection point in the CRB index.
We could still be looking at several months before a final bottom is in, but this is one more strong indicator that the end of the commodities rout is nigh.
Commodities Recovery Indicator No. 3: The Guru Effect
Join the conversation. Click here to jump to comments…
About the Author
Peter Krauth is the Resource Specialist for Money Map Press and has contributed some of the most popular and highly regarded investing articles on Money Morning. Peter is headquartered in resource-rich Canada, but he travels around the world to dig up the very best profit opportunity, whether it's in gold, silver, oil, coal, or even potash.