The Disney stock price is up nearly 13% since Sept. 1 on speculation that the newest installment of the Star Wars franchise, "The Force Awakens," will shatter box-office records.
"'The Force Awakens' will hit $1 billion (ticket sales) without blinking," said box-office analyst Phil Contrino in an interview with The Hollywood Reporter.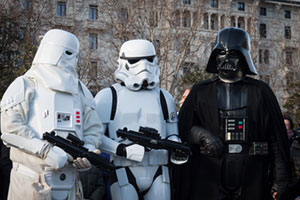 Already, many movie theaters across the United States are sold out of "The Force Awakens" tickets, sometimes for weeks after its debut on Dec. 18. Movie ticket sites like Fandango even temporarily crashed after Star Wars fans rushed to pre-purchase tickets after seeing the new movie's trailer.
For us, the big question is whether or not investors should capitalize on the hype...
Disney stock dipped nearly 15% in August after the company said it has lackluster prospects for cable television subscribers. Many analysts also believe consumers are losing interest in conventional cable packages.
In August, Walt Disney Co.'s (NYSE: DIS) revenue missed estimates - but only slightly. The company posted revenue of $13.1 billion, missing analyst consensus estimates of $13.2 billion. But Disney's EPS clocked in at $1.45, beating analyst consensus estimates of $1.42.
According to Money Morning Defense & Tech Specialist Michael A. Robinson, many trigger-happy investors misjudged Disney's Q3 earnings report, resulting in the August sell-off.
"We've seen a lot of overreaction this earnings season, as they beat on earnings (EPS) and just slightly missed on sales," Robinson said on CNBC after Disney released its earnings statement. "The end of the year is going to be very strong for them with the new Star Wars franchise coming out."
Disney Stock Price Has a Lot of Magic Left
Disney projects Star Wars merchandise sales alone to be around $5 billion in 2016, a hefty boost to its bottom line.
And it doesn't plan on stopping there.