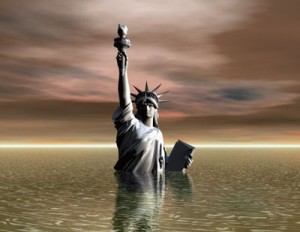 Former Reagan advisor and Office of Management and Budget (OMB) director David Stockman believes that the Fed's excessive monetary policies will soon culminate in a massive stock market crash.
On Tuesday, Stockman issued his warning to CNBC's Jackie DeAngelis and "Futures Now" traders Anthony Grisanti and Jeff Kilburg. He explained why a thundering financial collapse is just over the horizon...
A Stock Market Crash Before the 2016 Election
Irresponsible fiscal policies are to blame, according to Stockman. So are recent geopolitical events and the central bank's long hesitation to raise interest rates. Stockman flat out accused the U.S. Federal Reserve of "playing by the seat of their pants."
He warned that a massive market correction will happen. Here are the factors contributing to that collapse....
First, the former OMB director listed non-Fed-related indicators of the impending crash: China's economic slowdown, Japan's recession, the recent commodities plunge, and sluggish U.S. earnings.
These indicators, Stockman said, already hint at a fairly weak U.S. economy.
Second, you've got the Fed's irresponsible fiscal policies fueling the mayhem...
In its pursuit for stability, the Fed installed ZIRP (zero-interest-rate policy) and QE (quantitative easing) in 2008 - the latter of which officially ended in October 2014 - to push up stock and financial asset prices while increasing money supply. But with the prolonging of ZIRP and QE, these prices became artificially inflated, which has created a massive bubble.
Money Morning Capital Wave Strategist Shah Gilani reveals even more about the failure of QE and ZIRP. Then he tells investors how to prepare for the U.S. stock market sell-off ahead...
Meanwhile, the Fed's own debt grew because it was buying agency debts and mortgage-backed securities at the same time.
The culmination of all these actions has led the Fed into what Stockman called "utterly uncharted waters." As fewer stocks are making new highs, the market is "vulnerable to an unexpected and huge plunge," he said.
And he's right: CNBC pointed out yesterday that nearly 70% of stocks in the S&P 500 are trading 10% or higher from their respective 52-week highs.
In short, Stockman believes the Fed doesn't really know what to do next - and a stock market crash is about to happen.
"This is really the final spasm of the bull. When this one is over, I think we are going down for the count," Stockman said of the impending stock market crash. "It will happen I think sometime between now and the next election."
Follow us on Twitter @moneymorning or on Facebook.
Hut, Hut, Hike! With a Fed rate hike on the table when the Federal Open Market Committee (FOMC) meets Dec. 15-16, Americans need to start thinking about how it will affect them. When the U.S. Federal Reserve raises rates, its widespread impact may surprise some people since the last time we had a Fed rate hike was 2006. Here's what to expect...
[mmpazkzone name="end-story-hostage" network="9794" site="307044" id="138536" type="4"]