Pardon us for not sharing Wall Street's excitement that Goldman's Conviction Buy List now includes Apple stock…
Shares of Apple Inc. (Nasdaq: AAPL) were up 3% in mid-day trading following the announcement this morning (Wednesday).
Don't misunderstand. Here at Money Morning, we believe the Cupertino, Calif.-based tech giant has enough catalysts to push the share price to $200 within the next few years.
It's Goldman's Conviction Buy List we don't trust – and neither should you.
We've documented the atrocious track records of both the Conviction Buy List and another Goldman investing lemon, its quarterly "chartbook" recommendations.
Most of Goldman's chartbook stocks from January have been out-and-out losers, with 70% underperforming the market.
The Goldman Conviction Buy List isn't quite as bad, although it's typically a lagging indicator. Goldman leaves stocks on the list while they're plummeting and adds stocks after the biggest gains have already happened.
And wouldn't you know it, a great example of this is AAPL stock.
While the stooges in the financial media faithfully regurgitate Goldman's case for an Apple stock price of $163 (too low in our view), they've neglected to remind investors that AAPL had a stint on the Conviction Buy List not that long ago.
This is not a pretty story.
Goldman's Conviction Buy List Misses a 200% Gain
Goldman last added Apple to the Conviction Buy List in December of 2010, having missed out on a gain of more than 200% over the previous two years. Goldman removed AAPL from the Conviction Buy List in April of 2013, near the tail end of a 40% decline.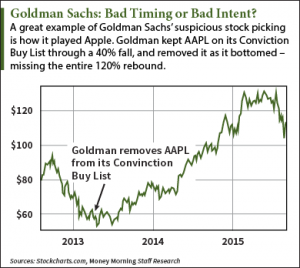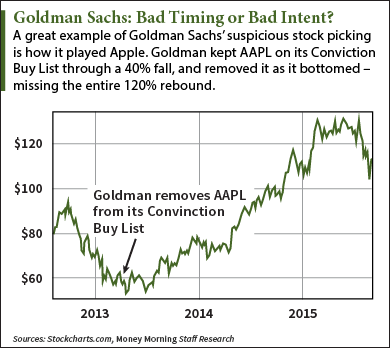 Overall, Apple stock rose 33.8% in the time it was on the Conviction Buy List, versus a 25.9% gain in the Standard & Poor's 500 Index. A so-so performance, but had Goldman acted sooner, the gain would have been in triple digits.
The timing of Apple's removal was also terrible. From the point where Goldman dropped Apple in April 2013 through May of this year, the stock gained 120% to the S&P 500's 35%.
Had Goldman simply left AAPL stock on the Conviction Buy List from 2010 until today, the total gain would have been 158%. And if Goldman had acted sooner by adding Apple to the Conviction Buy List in April 2008, the total gain today would have been 255%.
But anyone following Goldman's lead would have missed out on all but a tiny portion of those gains.
So it's nice that Goldman Sachs has suddenly recognized the tremendous potential in Apple stock by adding it to its Conviction Buy List. But don't make too much of it.
The Bottom Line: Apple stock is a buy, but not because Goldman Sachs says so. Investors should not base any decisions on what Goldman's Conviction Buy List says. The company didn't get the nickname "Vampire Squid" for nothing.
Follow me on Twitter @DavidGZeiler or like Money Morning on Facebook.
They Just Don't Get Apple: Despite the impressive gains in the Apple stock price over the past few years, Wall Street has drastically undervalued the company. They've missed a major piece of the iPhone growth puzzle, even though it's staring them in the face. Here's why Apple stock is still cheap…