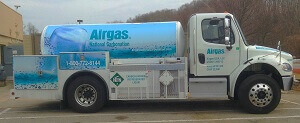 The Airgas stock price rose 1.2% to a 52-week high of $139.22 today after the company agreed to be bought by France's Air Liquide SA (EPA: AI) in a $13.4 billion deal.
Airgas stock has now climbed more than 45% since Friday's opening price of $94.58.
The acquisition is aimed at boosting Air Liquide's footprint in the United States, the world's top industrial gases market.
Paris-based Air Liquide will pay Airgas Inc. (NYSE: ARG) shareholders $143 a share in cash. That's a whopping 50% premium to Airgas's close Thursday, the last day of trading before speculation starting swirling about a deal. It's also a 20.3% premium over Airgas' previous 52-week high share price.
Airgas founder Peter McCausland cited "the strength of the U.S. dollar, low oil prices, and relatively slower global demand" which "continued to be headwinds for our customers" among reasons for agreeing to the deal.
Airgas is the industry leader in U.S. packaged gases. The acquisition will increase Air Liquide's gas and services sales by around 30%.
Air Liquide provides industrial gases used in the food, auto, chemical, oil and gas, aerospace, and semiconductor sectors, as well as in engineering and construction. It also supplies medical gases that help patients breathe, relieve pain, or are used in anesthesia.
Air Liquid has operations in 80 countries. The company's American headquarters is in Houston, and it operates more than 140 industrial gas plants in the United States.
The deal is projected to yield more than $300 million of pre-tax cost, efficiency, and volume synergies within two to three years.
The deal comes five years after Airgas survived a takeover by Air Products & Chemicals Inc. (NYSE: APD). Air Products offered as much as $5.9 billion for Airgas, or $70 a share. At the time, Airgas said it was holding out for a price of at least $78 per share. Air Products gave up on its Airgas endeavors in February 2011 after a court loss.
The Airgas-Air Liquide transaction is subject to Airgas shareholders' approval, as well as antitrust and other regulatory approvals.
A competing bid is unlikely given the high premium offered by Air Liquide, according to Robert W. Baird & Co. And antitrust concerns are limited, Bloomberg noted.
Stay informed on what's going on in the markets by following us on Twitter @moneymorning or liking us on Facebook.
Related Articles: