The U.S. Securities and Exchange Commission proposes, enacts, and enforces America's securities laws and regulates the nation's stock and options exchanges.
Or… that's what it's supposed to do.
In practice, the SEC proposes and enacts overly complicated rules with loopholes big enough to drive dump trucks through, then selectively enforces those rules and regulations. It fosters competition among exchanges and "dark pools" and lets their private operators manipulate customers.
But right now, the SEC has a big opportunity to level the playing field for investors like you. One firm has proposed a "tiny" solution to the huge problem that high-frequency trading (HFT) poses to individual investors, challenging the way every other stock exchange does business.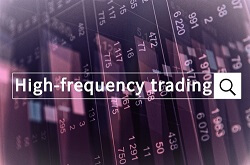 But Wall Street's heavy hitters – especially the "Flash Boys" – are lining up to voice their opposition, demanding that the SEC continue to allow them to profit by front-running millions of trades per day.
Will the SEC allow this company to revolutionize how stock exchanges are run… or will it once again side with the big banks, hedge funds, and HFT companies?
We're about to find out…
A New Exchange Could Be the SEC's Worst Nightmare
As if 11 SEC-regulated stock exchanges in the United States weren't enough (and that doesn't include dozens of privately run dark pools), yet another company has filed an application with the SEC for registration as a National Securities Exchange.
The company is Investors Exchange LLC (IEX)… and it's the SEC's worst nightmare.
That's because IEX is challenging the way the SEC has allowed every other stock exchange to conduct business.
Which is the wrong way (I'll tell you why) – but an incredibly profitable way for the exchanges, for discount brokerage houses, and for the mega-profitable HFT desks at big banks, hedge funds, and listed HFT companies.
(Yep, you got that right. High-frequency trading is so profitable that stand-alone HFT trading companies have listed their shares for trading on national exchanges. Kind of ironic.)
IEX, which as a private company started executing customer orders in 2013, was prominently featured in Michael Lewis' bestselling 2014 book "Flash Boys: A Wall Street Revolt."
In the book, Brad Katsuyama, who founded IEX, is David going against the Goliaths of the HFT universe, all of whom have been coddled (I'm holding back the words I really want to use) by the SEC.
Katsuyama says HFT shops have an unfair advantage over everyone else because they have faster access to all related trading data.
He's absolutely right.
This Tiny "Speed Bump" Is a Huge Threat to High-Frequency Trading
IEX doesn't use high-speed access to trade on behalf of its customers or itself. In fact, its business model does the opposite – it actually slows down orders coming into the IEX platform, as well as the data going out.
By slowing down orders by 350 microseconds (a microsecond is one millionth of a second), IEX levels the playing field on its exchange platform so that super-fast HFT machines can't front-run everyone else's orders on its platform.
This causes a huge problem for HFT players, who are able to game the system because of their ability to read data and act on it faster than everyone else.
Join the conversation. Click here to jump to comments…
About the Author
Shah Gilani is the Event Trading Specialist for Money Map Press. In Zenith Trading Circle Shah reveals the worst companies in the markets - right from his coveted Bankruptcy Almanac - and how readers can trade them over and over again for huge gains.Shah is also the proud founding editor of The Money Zone, where after eight years of development and 11 years of backtesting he has found the edge over stocks, giving his members the opportunity to rake in potential double, triple, or even quadruple-digit profits weekly with just a few quick steps. He also writes our most talked-about publication, Wall Street Insights & Indictments, where he reveals how Wall Street's high-stakes game is really played.