For Nov. 20, 2015, here's how the stock market did today, earnings reports, the top stock market news, and stocks to watch based on today's market moves…
How Did the Stock Market Do Today?                                                              
D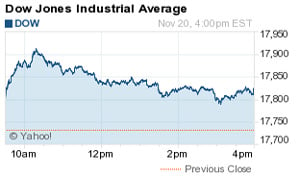 ow Jones: 17,824.02; +91.27; +0.51%                       
S&P 500: 2,089.17; +7.93; +0.38%
Nasdaq: 5,104.92; +31.28; +0.62%   
The Dow Jones Industrial Average finished its best week in more than a month today, fueled by a 5.2% surge in Nike Inc. (NYSE: NKE) stock. The global shoe and apparel retailer announced that it has authorized a $12 billion stock buyback program and a two-for-one stock split. Meanwhile, the U.S. Treasury Department introduced new rules to deter U.S. companies from engaging in tax inversions, although Secretary Jack Lew admitted that the policies are unlikely to stop a very large merger in the pharmaceutical space that is near completion between Allergan Plc. (NYSE: AGN) and Pfizer Inc. (NYSE: PFE).
Top Stock Market News Today
Stocks to Watch: SQ, ANF, TSLA, GOOGL, INTU, GOOGL, MTCH
What Investors Must Know This Week
Follow us on Twitter @moneymorning or like us on Facebook.