UnitedHealth Group Inc. (NYSE: UNH) CEO Stephen J. Hemsley unleashed a bombshell of Obamacare news when he announced that his firm is considering a 2017 exit from the exchanges created by the Affordable Care Act (ACA).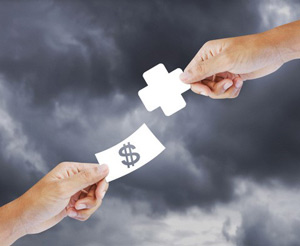 "We are evaluating the viability of the insurance exchange product category for us and will determine during the first half of 2016 the extent to which we can continue to serve the public exchange markets in 2017," Hemsley said in a Thursday morning conference call. UnitedHealth added that it would cut back on the marketing of its ACA plans.
UnitedHealth is the largest health insurer in the United States. For 2016, it offers Obamacare plans in 35 states and serves half a million customers.
In revising its 2015 earnings outlook downward from $6.25-$6.35 to $6.00, UnitedHealth blamed "pressure" of $425 million, or $0.26 a share, on losses from its Obamacare-related business.
"We cannot sustain these losses," Hemsley told analysts on a conference call. "We can't really subsidize a marketplace that doesn't appear at the moment to be sustaining itself."
This devastating Obamacare news confirmed suspicion that the major insurers aren't doing well with their ACA plans and eventually could follow UnitedHealth's lead in abandoning the exchanges.
"Every single one of the companies involved in this is going to have to do exactly what UNH did," said CNBC commentator Jim Cramer. "This is very damning for [the Affordable Care Act]."
UnitedHealth fell 5.6% Thursday and dragged down much of the health insurance sector with it. Cigna Corp. (NYSE: CI) dropped 5.4%, Anthem Inc. (NYSE: ANTM) fell 6.9%, and Aetna Inc. (NYSE: AET) lost 6.5%. Hospitals felt the pain as well, with Tenet Healthcare Corp. (NYSE: THC) shedding 8% and HCA Holdings Inc. (NYSE: HCA) falling 6.9%.
So what the heck is going on?
Frankly, it's something the ACA's critics have long predicted…