Berkshire Hathaway Inc. (NYSE: BRK.A) filed a report on Nov. 16 listing the Warren Buffett stocks the billionaire bought and sold during Q3 2015.
The focus of the Warren Buffett stock moves were his decreased positions in Goldman Sachs Group Inc. (NYSE: GS) and Wal-Mart Stores Inc. (NYSE: WMT). In Q3, Buffett sold 13% of his 12.6 million shares in GS and 7% of his 60.4 million shares in WMT, according to ABC News.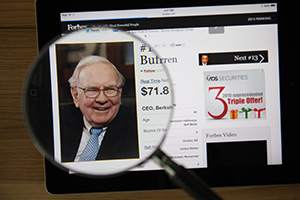 In an interview with CNBC, Buffett said he sold GS stock and WMT stock to raise cash for his planned $32 billion acquisition of industrial goods company Precision Castparts Corp. (NYSE: PCP). Buffett plans to use $22 billion in cash from Berkshire and borrow $10 billion to complete the deal.
But some investors are skeptical of Buffett's reasoning...
Berkshire Hathaway reported $56.2 billion in cash and equivalents at the end of Q3. So analysts believe Buffett could complete the Precision acquisition without the sale of Wal-Mart and Goldman Sachs stock.
Investors are also skeptical because WMT stock and GS stock have been extremely volatile in 2015. In the last year, WMT stock is down more than 29%. While GS stock has returned a gain of just 0.3% in the last year, it has a 52-week range of $167.49 to $218.77.
Despite selling his stakes, Buffett stated that he still likes WMT stock and GS stock.
Even if Buffett's true intentions aren't clear, investors follow Warren Buffett stocks because many want to directly invest like Warren Buffet. At the very least, many want to know his position on specific companies.
After all, the 85-year-old investing legend has a net worth of $63.2 billion, according to Forbes.
Here's what investors need to know about WMT, GS, and the other Warren Buffett stocks sold in Q3 2015...
Warren Buffett Dumping WMT and GS Stock Signals Sell
If you want to invest like Warren Buffett, you first need a deep understanding of a company's long-term strategies and its fundamentals.
And right now, Wal-Mart's long-term revenue growth isn't promising...