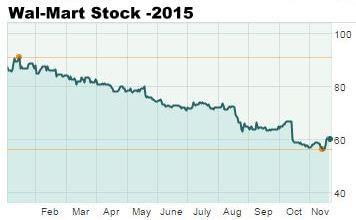 The WMT stock price barely reacted yesterday (Monday) to the news that Wal-Mart Stores Inc. (NYSE: WMT) plans to get a jump on Cyber Monday by launching its sales at 8 p.m. Sunday, four hours earlier than usual.
The Wal-Mart stock price was up less than 1% in mid-day trading following the announcement. It's been a rough year for Wal-Mart stock, with shares down 30% in 2015.
The Bentonville, Ark., retailer said that it was moving up the hours of the sale to help customers.
"It can be exhausting for working parents and millennials to stay up past midnight to shop online, only to wake up early the next day to get ready for work," Fernando Madeira, president and CEO of Walmart.com, said in a statement. "By starting 'Cyber Monday' hours earlier on Sunday evening and quadrupling the number of Cyber Monday specials, we're making it easier for customers to get ahead of the busiest online shopping day of the year and save on the best gifts."
But this isn't as much about catering to customers as Wal-Mart would have you think. The "Cyber Sunday" news is another sign of Wal-Mart's desperation to shore up its weak online retail presence.
Why the Wal-Mart Stock Price Is Falling
One of the main reasons for the big slide in the WMT stock price this year is the rapid migration of retail sales to the Internet, driven by Amazon.com Inc. (Nasdaq: AMZN).
The aggressive pricing, low or free shipping costs, and convenience of shopping from home have all put pressure on traditional retail stocks like Wal-Mart.
"There's a perception in the world that Wal-Mart is playing catch-up to Target and Amazon, especially in e-commerce innovation," Jim Davidson, head of research at Bronto, a marketing company, told The Wall Street Journal.
With more than 5,000 brick-and-mortar locations in the United States, Wal-Mart was slow to react to the challenge that online retailing represented. For years, the company treated its website operation as an afterthought and it showed.
Today Wal-Mart gets just 3% of sales from its website, compared to 8% for Macy's Inc. (NYSE: M), 19% for Nordstrom Inc. (NYSE: JWN), and 26% for Neiman Marcus.
Wal-Mart belatedly recognized the problem. But here's why the company's plans to make up lost ground don't bode well for the Wal-Mart stock price…