Will Etsy stock recover in 2016?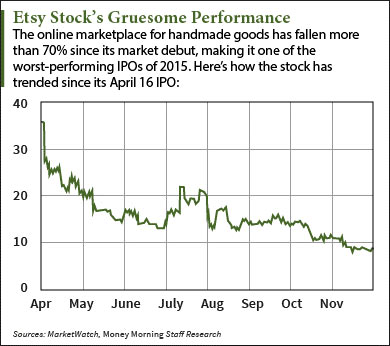 That's been the question on investors' minds recently as shares of the artisan marketplace crater to new lows. Etsy Inc. (Nasdaq: ETSY) stock has plummeted 70.3% during its seven-month run as a public company. It's down 20.3% in the last month alone.
The Etsy stock price has been plagued by three consecutive quarterly losses. Last quarter, the company posted a loss of $0.06 per share on revenue of $65.7 million. During Q1 and Q2, Etsy lost $0.84 per share and $0.07 per share, respectively.
The stock is also being destroyed by its biggest competitor – Amazon.com Inc. (Nasdaq: AMZN).
On Oct. 8, Amazon launched "Handmade," its own online marketplace for artisan goods. According to Forbes, about 80,000 items from 5,000 sellers in 60 different countries went live on Handmade on the first day.
With Handmade, Amazon has clearly developed an "Etsy killer." After all, Amazon's 278 million active users dwarf Etsy's 21 million users. That means the Etsy stock price could keep falling if Handmade's early success continues.
But Etsy has ambitious plans to grow beyond its marketplace service…
The company recently launched the beta version of Etsy Manufacturing, which matches sellers with small manufacturers. About 600 manufacturers have applied for the service so far, and Etsy believes it will help sellers expand their small businesses. Revenue will come from transaction fees charged to both designers and manufacturers once the service rolls out next year.
The company hopes revenue from Etsy Manufacturing will bring much-needed earnings growth.
With another revenue stream on the horizon, investors are wondering if Etsy's currently discounted price of $8.91 offers the opportunity to buy into a 2016 rebound – but here's why we're not buying.