The Amazon stock price was down over 0.5% in early afternoon trading activity on Cyber Monday, one of the most important days for Amazon's sales.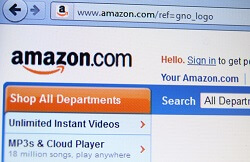 According to ABC Action News Philadelphia, an Amazon.com Inc. (Nasdaq: AMZN) spokesman stated that Cyber Monday is Amazon's busiest day of the year. On Cyber Monday 2014, Amazon customers ordered 500 items per second.
According to Adobe, 2014 Cyber Monday sales totaled $2.65 billion in the United States - that's up 16% from sales in 2013. Investors will keep a close eye on the Cyber Monday sales growth the company reports this year as well.
While Cyber Monday is the biggest day of the year for Amazon, the Amazon stock price has historically fallen on the day.
Since 2013, the Amazon stock price has closed slightly down from its opening price on Cyber Monday. In 2014, the Amazon stock price opened at $338.12 on Cyber Monday and closed at $326.00. In 2013, the Amazon stock price opened at $399 and closed at $392.30.
Part of the reason for the Amazon stock price drop is selling pressure from institutional investors. You see, November and December are not months in which institutions add new positons. Hedge fund managers typically try to sell off losses to make portfolios appear more attractive in the new year. This practice also helps them take advantage of tax write-offs.
But any dip in the Amazon stock price today would create an excellent buying opportunity...
Any short-term setbacks should not overshadow the dominance of Amazon as a leading online retailer.
Despite today's early dip, AMZN stock is up 115% year to date, and we expect the Amazon stock price to continue its meteoric rise...