Not long ago I walked into a local branch of my bank - the 13th largest bank in the United States based on consolidated banking assets, according to the Federal Deposit Insurance Corporation's (FDIC) second-quarter 2015 data.
I wanted to cash a check for a few thousand dollars. It was a business check made out to cash; it was my business account and there was plenty of money in it.
No big deal - happens every day, right?
Well, what happened next was downright scary. And I'll tell you exactly what happened because it has profound implications for every American.
That's because it means capital controls, courtesy of the government and the U.S. Federal Reserve, could be right around the corner. They're already in effect in some form.
That means you might not be able to get the money you want out of an ATM. You might not be able to cash a check when you have plenty of money in your account. Or worse... your bank could take your deposited cash and convert it to shares of stock in that bank.
In other words, if you think you'll always be able to get your money out of your bank, you're wrong.
So, here's what happened to me at the teller's window...
It Started Normally Enough
When I went to cash the check, a routine activity that must happen tens of millions of times every day in the United States, the woman behind the big, thick glass partition said, "I'm sorry. I can't cash this for you."
"Pardon me," I said. "What do you mean you can't cash that?"
She replied matter-of-factly, "I don't know you."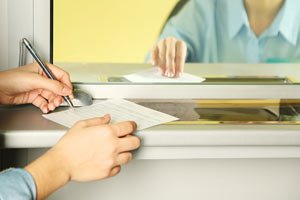 "You don't know me because you're new here," I replied. "Please get the branch manager," I requested politely.
"I'll call her, but you'll have to fill out this form," she told me as she reached into a drawer under the counter.
Just then the branch manager came over to the teller inside the cage. "Hi Mr. Gilani, is there a problem?" she asked.
"Yes, there is a problem," I replied. "I'm trying to cash a check and first this young lady said she didn't know me and couldn't cash the check, then she said I'd have to fill out some forms to get my money out. What's going on?"
The manager told me there were some "new rules" they had to follow. She acknowledged she knew me, telling the teller I was okay, but told me I'd still have to fill out the form.
"I am not filling out any form ever to take my money out of my account," I stated. "Is that a federal law or is that this bank's idea of customer service?"
"It's just what we have to do now," the manager replied.
So I looked at her as if to say, "Really? You're not going to tell me why I have to fill out a form to take cash out of my account?"
Then I said, very calmly, "I'm sorry - and I don't want to be a jerk - but if you don't cash this check or if I'm ever asked to fill out a form again when I cash a check, I'll close all my accounts here."
I got my cash... and a seriously creepy feeling.
If you think you'll always be able to get your money out of your bank, you're wrong.
No one - no one - has ever been able to tell me why the teller wouldn't cash my check, not even those friends of mine who actually own banks. The best answer I got was: It was a new teller and she probably didn't understand the "SARs rules" and figured she'd better not cash the check, in case she got in trouble.
Which begs the question, what are SARs?
They are Suspicious Activity Reports, and according to the Federal Deposit Insurance Corporation's (FDIC) website...
"A bank shall file a suspicious activity report with the appropriate federal law enforcement agencies and the Department of the Treasury, in accordance with the form's instructions, by sending a completed suspicious activity report to FinCEN (Financial Crimes Enforcement Network) in the following circumstances:
Insider abuse involving any amount.
Transactions aggregating $5,000 or more where a suspect can be identified.
Transactions aggregating $25,000 or more regardless of potential suspects.
Transactions aggregating $5,000 or more that involve potential money laundering or violations of the Bank Secrecy Act."
Banks fill out these reports regularly. They have to... or else...
You see, according to a post on the well-respected ZeroHedge.com site, "Banks have minimum quotas of SARs they need to fill out and submit to the federal government. If they don't file enough SARs, they can be fined. They can lose their banking charter. And yes, bank executives and directors can even be imprisoned for noncompliance."
As annoyed as I was with the difficulty of getting my money out of my account (and the teller no doubt filing a SAR on me), at least I was able to get my money.
But that can change.
There are two scenarios where depositors could either be restricted from withdrawing their cash or have their deposits confiscated and converted into bank stock shares.
Here Are 10 "One-Click" Ways to Earn 10% or Better on Your Money Every Quarter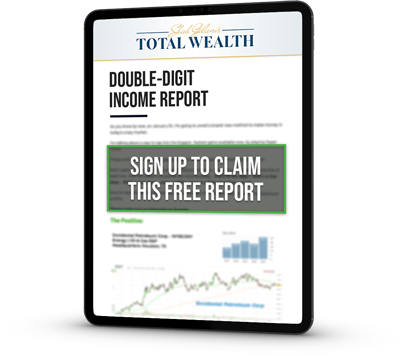 Appreciation is great, but it's possible to get even more out of the shares you own. A lot more: you can easily beat inflation and collect regular income to spare. There are no complicated trades to put on, no high-level options clearances necessary. In fact, you can do this with a couple of mouse clicks – passive income redefined. Click here for the report…
About the Author
Shah Gilani boasts a financial pedigree unlike any other. He ran his first hedge fund in 1982 from his seat on the floor of the Chicago Board of Options Exchange. When options on the Standard & Poor's 100 began trading on March 11, 1983, Shah worked in "the pit" as a market maker.
The work he did laid the foundation for what would later become the VIX - to this day one of the most widely used indicators worldwide. After leaving Chicago to run the futures and options division of the British banking giant Lloyd's TSB, Shah moved up to Roosevelt & Cross Inc., an old-line New York boutique firm. There he originated and ran a packaged fixed-income trading desk, and established that company's "listed" and OTC trading desks.
Shah founded a second hedge fund in 1999, which he ran until 2003.
Shah's vast network of contacts includes the biggest players on Wall Street and in international finance. These contacts give him the real story - when others only get what the investment banks want them to see.
Today, as editor of Hyperdrive Portfolio, Shah presents his legion of subscribers with massive profit opportunities that result from paradigm shifts in the way we work, play, and live.
Shah is a frequent guest on CNBC, Forbes, and MarketWatch, and you can catch him every week on Fox Business's Varney & Co.