According to the National Retail Federation (NRF), the number of Cyber Monday shoppers will decrease this year. And that's troubling for the Wal-Mart Stores Inc. (NYSE: WMT) stock price.
The NRF reports 121 million shoppers plan to shop online on Cyber Monday this year. That's down from the 126.9 million who planned to last year.
Wal-Mart has made a big investment in Cyber Monday with big sales, blockbuster deals, and free shipping. It even started Cyber Monday on Sunday at 8 p.m. ET, four hours earlier than usual.
Wal-Mart maintains the deals are aimed at being customer friendly. The country's biggest brick-and-mortar retailer said the early start makes it easier for customers to "get ahead of the busiest online shopping day of the year and save on the best gifts."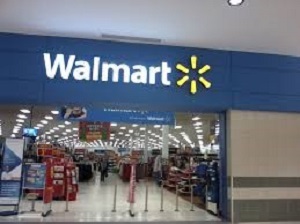 As concerns escalate that Cyber Monday might not live up to expectations, the WMT stock price slipped 1.5% to $59.01 intraday Monday.
While today's sales are a major concern for investors, Cyber Monday isn't the only problem the WMT stock price is facing now…
WMT Stock Price Falls as Online Sales Lag
As of Aug. 31, Wal-Mart boasted 5,249 retail stores, 3,445 supercenters, 455 discount stores, 656 neighbors markets, and 652 Sam's Clubs. The company's focus has been on stocking and keeping these stores manned.
That means little attention has been given to its online presence.
Wal-Mart presently gets just 3% of sales from its website. In comparison, Macy's Inc. (NYSE: M) gets 8%, Nordstrom Inc. (NYSE: JWN) gets 19%, and Neiman Marcus get 26%.
Then there's e-commerce goliath Amazon.com Inc. (Nasdaq: AMZN). In 2014, Wal-Mart's online sales were $12.2 billion compared to Amazon's $89 billion.
Amazon officially became more valuable than Wal-Mart this summer. On Aug. 28, Amazon had a market cap of $246.54 billion compared to Wal-Mart's $230.53 billion cap.
While this has become a serious problem, Wal-Mart has been slow to address the issue. And the solutions the company is implementing appear to be too little too late for the WMT stock price…