The Apple stock price stands to get a nice push from the company's deviously brilliant Black Friday strategy.
Defying convention, Apple Inc. (Nasdaq: AAPL) opted to shun discounts on its products for Black Friday, Cyber Monday, or any holiday shopping day in between.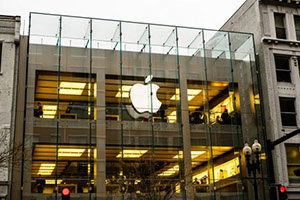 Apple retail chief Angela Ahrendts claimed Apple made the decision as a benefit to Apple retail store employees to spare them Black Friday's long hours and deal-hungry mobs.
But Ahrendts isn't telling the whole story – the part that's relevant to the AAPL stock price.
You see, although Apple isn't offering any deals itself, the Cupertino, Calif.-based company was happy to let other major retailers such as Target Corp. (NYSE: TGT)  and Best Buy Co. Inc. (NYSE: BBY) use products like the iPad and Apple Watch as "doorbusters" and other incentives.
So Apple stock will get all the benefits of the Black Friday and Cyber Monday hoopla with none of the costs.
"Right now, Apple has what are generally regarded as the best products out there, and is selling about as many iPhones as it can make," Yory Wurmser, retail analyst at eMarketer, told Fortune. "It has little incentive to undermine its brand with lower prices, even in the case of iPads or Apple Watches."
The other retailers bear the cost of the discounts, so Apple maintains all of its plump profit margins on every sale. Apple is also saving money by not having to pay for extra staff or overtime hours in its own retail chain.
It's the sharpest scheme since Tom Sawyer bamboozled his pals into paying for the privilege of whitewashing his Aunt Polly's fence.
But what about the business Apple is losing by failing to offer any traditional holiday deals?
Here's why that's not a problem…