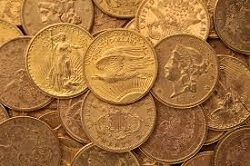 Investors want to know how to buy gold now as prices today have slipped to levels not seen in years.
First, here's what's been weighing on the gold price.
A strong rally in the U.S. dollar, the risk-off trade amid a six-year bull run in stocks, and the anticipation of a rising interest rate environment have all taken some of the shine out of gold.
Tuesday morning, gold futures were up $5.00, or 0.47%, at $1,670.50. Yellow metal prices rose $9.10, or 0.09%, to $1,065.30 an ounce Monday. The modest two-day bounce followed strong selling pressure last week that sent gold prices down 1.9%. That marked the sixth weekly decline and left the gold price at levels not seen since February 2010.
The gold price stumbled 6.7% in November after a 2.4% advance in October. Last month's decline was the worst for the precious metal since June 2013. The gold price is now down 10% year to date.
Heightened odds of a U.S. Federal Reserve interest rate hike at the FOMC's Dec. 15-16 meeting has ignited a dollar rally. That was the key catalyst for last month's gold price swoon, Money Morning Resource Specialist Peter Krauth explains.
But the U.S. dollar could retreat in 2016 as markets become accustomed to the (assured) slow pace of the Fed's tightening cycle.
That's good news for the gold price. And precious metal investors are taking advantage of the current price dip to buy more gold now.
American Eagle gold coin sales totaled 97,000 ounces in November. That was up from 34,000 ounces in October and 60,000 ounces from a year earlier. Year to date, the American Gold Eagle sales tally is 801,000 ounces. That compares to 506,500 ounces through the same period in 2014. All but one of the four differently sized 2015-dated Gold Eagles has sold out.
That said, here's how to buy gold with prices sitting at these low levels.
How to Buy Gold: Coins