There is a lot of money and influence at stake for the GOP presidential candidates this week...
Republican presidential front-runner Donald Trump, alongside up-and-coming rivals Ted Cruz and Marco Rubio, will bring their campaign ideas back to Washington, D.C. Thursday. That's where they'll attend the Republican Jewish Coalition (RJC) Presidential Candidates Forum downtown at the Ronald Reagan Building and International Trade Center.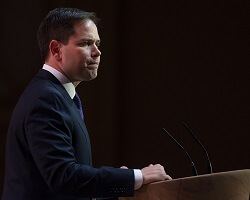 One wrong word could cost a candidate millions.
For example, Chris Christie got into a lot of trouble at the RJC in the spring of 2014 when he reminisced on time he spent in the Middle East. Christie noted that he'd taken a helicopter from "occupied territories" that helped him "understand the military risk that Israel faces every day." The "occupied territories" to which Christie referred, however, were the West Bank and East Jerusalem - land the Israeli government and many of its supporters believe it has a right to.
While the story was intended to forge commonality with the present donors to whom Christie was speaking, his use of the term "occupied territories" upset members of the crowd. To them, it validated "Palestinian challenges over Israel's presence," reported Politico on March 28, 2014.
One attendee, Morton Klein, president of the Zionist Organization of America, told Politico that he considered Christie's mistake exemplary of a noncommittal candidate who doesn't know the issues. Which begs a few questions about the 2016 presidential candidates set to attend Thursday's event:
Should GOP presidential hopeful and retired neurosurgeon Ben Carson attend, considering his infamous lack of knowledge about sensitive foreign policy/affairs issues?
Could attending the conference hurt Trump, whose gregarious speeches sometimes border on racially inappropriate projections?
Will the RJC provide notably well-spoken but lagging-in-polls candidates Sen. Marco Rubio (R- FL) and Sen. Ted Cruz (R-TX) an opportunity to gain headway?
Here's how we expect Republican support will shift following Thursday's RJC battle...
What to Expect from the GOP Presidential Candidates at the RJC
Neither Carson nor Trump have strong support from members of the Republican Jewish Coalition, reported Politico this past Sunday.
In fact, the Jewish Telegraph Agency reported on Sept. 25 that Fred Zeidman, a longtime fundraiser for Republican presidential candidates and member of the RJC, said, "It's like we have a conference call every morning, and we ask, 'What can we do to screw ourselves up today?'" Likewise, Seth Mandel, the Op-Ed editor of The New York Post, lamented that the candidates all seemed to be vying for the top spot of "Most Uninformed."
The Jewish Telegraph Agency reported that, overall, the feeling among Jewish Republicans towards candidates Carson and Trump was one of chagrin. But they believed that, come primaries time, the party will have "righted itself."
"But it's fair to say this audience will be up for grabs if the race continues on these current lines," Ari Fleischer, former White House press secretary and RJC board member, told Politico. "And it's a real opportunity for these candidates to win some support if they can demonstrate some depth of understanding on policy issues."
This is where Senators Cruz and Rubio could step in and take the helm.
They are the RJC's "plan Bs" - and they know it.
[mmpazkzone name="in-story" network="9794" site="307044" id="137008" type="4"]
That means Thursday will be their chance to shine. For once, Trump and Carson won't be the expected favorites at a Republican event. And while, historically, the RJC has backed Jeb Bush, that doesn't look to be the overwhelming case anymore. In fact, one RJC member told Politico that, "[Other members] were very early committed to Jeb because of friendships and relationships. Now that Jeb has run out of steam, I don't know where any of them stand. Most people I know now are talking up Marco Rubio or Ted Cruz."
Billionaire Paul Singer has already thrown his support behind Rubio, and billionaire business magnate Sheldon Adelson is likely to follow suit, reported Politico. Oil magnate Howard Jonas will cohost a fundraiser for Cruz after his speech at the RJC, which alludes to possible support from the multibillionaire. However, Jonas will also be hosting a fundraiser for Rubio at his home at an unannounced later date. This is likely an effort on Jonas' part to spread the wealth once primarily intended for Bush's candidacy.
One RJC member told Politico that members of the elite political group aren't 100% behind the two senators... yet. "But you do sense there's a lot of interest," he continued. "Our group is reflective of the race generally in that most of the excitement now is about Rubio and Cruz."
Get all the latest news on Cruz, Rubio, and the other 2016 GOP presidential candidates on Twitter @moneymorning and on Facebook.
The End of the Petrodollar: Since 1973, the global oil market has operated by the "petrodollar" system, wherein exports around the world are priced in U.S. dollars. Now foreign oil deals are threatening to dismantle that system. What they plan to put in its place could destroy the U.S. dollar, ultimately leading to total economic collapse...
Related Articles: