Today's silver price is getting cues from gold... That's almost always the case. And this past week has been no different.
Gold has always been the biggest determinant of what happens to silver.
So gold's gyrations and its establishment of a new six-year low has predictably been reflected in silver's price. On Black Friday, Nov. 27, the silver price momentarily dipped below $14.00 to touch $13.94, then late Sunday traded again below $14.
At its current $14.15, today's silver price is at levels last seen in late 2008, a full seven years ago.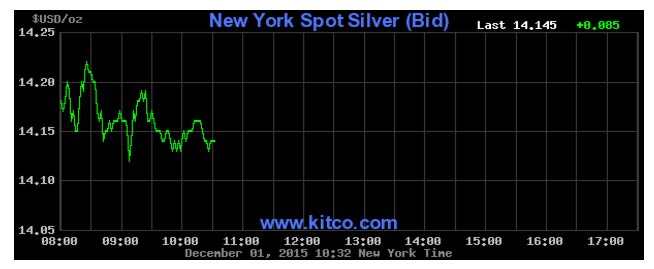 But the buying action in the physical silver market, as well as the premiums people are paying to get their hands on real silver, belie the action in the paper market.
Today's Silver Price Update
In my recent gold price update, I told you that eBay Inc. (Nasdaq: EBAY) users were snatching up gold at healthy clip.
Here's what CNBC had to say about eBay and its recent silver sales:
Silver is also a hot commodity among eBay's users. EBay offered a Thanksgiving deal on 100 1-ounce Silver American Eagles coins priced at $16,665. Its sellers sold the silver weight equivalent of twenty-five fifteen pound turkeys on turkey day. Last weekend in just one day, it sold 2,500 rolls of 20 Silver American Eagles through a daily deal. That translates to more than $850,000 in gross merchandise volume and sales of 50 ounces of silver every 60 seconds.
What's more, eBay has been pretty forceful with advancing this part of its business. The company has forged alliances with some of the largest online sellers of precious metals, including APMEX, Bay Precious Metals, and Royal Canadian Mint.
All that buying has been causing the silver coin market to get tapped out.
Today's Silver Price Lows Help Raise Demand for Coins
[mmpazkzone name="in-story" network="9794" site="307044" id="137008" type="4"]
According to Coinnews.net, the United States Mint announced Nov. 24 that it would halt production of the 2015 American Eagle silver bullion coins by Dec. 11 and take orders for the new 2016 issue one month later on Jan. 11.
Based on the pace of sales year to date, Coinnews.net expects the U.S. Mint will set a new silver coin sales record this year, probably hitting very close to the 47 million units mark. So far, the Mint has sold an impressive 43.8 million ounces of Silver Eagles.
Interestingly, the Mint has enough production capacity to produce considerably more of these coins, but there are sometimes shortages of the silver planchets required to make the coins, a problem other mints around the world also face.
And according to SRSroccoREPORT.com, the Royal Canadian Mint is likely also going to hit a new Silver Maple Leaf sales record above 30 million ounces.
That's helped silver premiums go through the roof, where they've remained for some time.
Right now, a Silver Eagle 1-ounce coin will run about 27% above spot, while bags of junk silver will also run premiums in the 25% range.
It seems the only way to get close to reasonable premiums on silver these days is to buy 100-ounce bars, which will cost somewhere around 7% above spot, but require an outlay of about $1,500 each.
Of course, low silver prices have certainly made high premiums easier for buyers to digest.
Again, according to SRSrocco, "Furthermore, we see the same trend taking place in the silver market. Investors purchased a record 994.1 Moz of physical silver bar and coin demand during the 2011-2015 time period compared to a paltry 18.2 Moz build in the world Silver ETFs."
It seems people are beginning to clue in to the attraction, and necessity, of holding some physical silver.
Follow us on Twitter @moneymorning or like us on Facebook.
The Best Way to Buy Gold Coins: Today's gold price is giving us an amazing buying opportunity - so we're stocking up on American Gold Eagles. Don't miss this historic "sale" on gold coins - here's how to get good deals from trusted sources.
[mmpazkzone name="end-story-hostage" network="9794" site="307044" id="138536" type="4"]