On Nov. 11, United Technologies Corp. (NYSE: UTX) made the kind of announcement investors love to hear.
The defense and high-tech conglomerate said it was more than doubling the size of its current share-repurchase plan, adding another $6 billion to the $4 billion in stock it planned to buy back before 2016.
United Technologies is far from alone. In just the first six months of this year, U.S. firms spent more than a quarter of a trillion dollars on share buybacks.
And federal data shows that corporate buybacks, which have been rising for years now, are likely to grow even more between now and 2020.
The really good news for tech stocks is this: Technology companies make up the bulk of firms that are racing to repurchase their stock.
Today I'll show you an easy way to cash in on this buyback frenzy.
With it, you can beat the market by more than 30% over the next five years…
Rolling in Cash
As dramatic as the United Technologies announcement was, there was more enticing buyback news for investors.
Just one day before the UTX announcement, the German tech-industrial giant Siemens AG (OTCMKTS ADR: SIEGY) confirmed that it would buy back roughly $3.2 billion of its stock over the next three years. This was the second such program Siemens has adopted since 2013.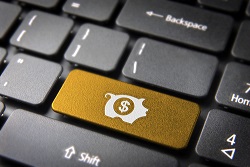 Europe's largest engineering firm can afford to return so much wealth to its shareholders because it generates so much cash – $8.9 billion in 2014.
That brings me to a key fact driving the current buyback boom. Companies in general, and U.S. firms in particular, are sitting on mountains of cash.
Market research firm FactSet said that at the end of the second quarter, the last period for full data, S&P 500 Index companies held a combined $1.43 trillion in cash on hand. That's the second-biggest cash reserve in the last decade and just a tad below the $1.45 trillion held in last year's fourth quarter.
Many firms are returning a portion of this cash to their shareholders, a move that benefits investors and companies alike.
By reducing the amount of shares out in the market, the companies instantly improve their earnings per share. In turn, that drives up the stock price, because equities trade at multiples of their earnings.
Investors benefit because with fewer shares in the open market, the value of the shares remaining in individuals' portfolios increases.
And if history is any guide, this cash-on-hand trend will only continue.
A 2013 study by the St. Louis Federal Reserve Bank found that U.S. nonfinancial firms have steadily increased their cash holdings going all the way back to 1980 (though they slipped during the financial crisis).
Economists surveyed offered a variety of reasons for the trend, such as building up a war chest for R&D and keeping the balance sheets clean of debt.
But one little-noticed fact really jumped out at me…
Join the conversation. Click here to jump to comments…
About the Author
Michael A. Robinson is one of the top financial analysts working today. His book "Overdrawn: The Bailout of American Savings" was a prescient look at the anatomy of the nation's S&L crisis, long before the word "bailout" became part of our daily lexicon. He's a Pulitzer Prize-nominated writer and reporter, lauded by the Columbia Journalism Review for his aggressive style. His 30-year track record as a leading tech analyst has garnered him rave reviews, too. Today he is the editor of the monthly tech investing newsletter Nova-X Report as well as Radical Technology Profits, where he covers truly radical technologies – ones that have the power to sweep across the globe and change the very fabric of our lives – and profit opportunities they give rise to. He also explores "what's next" in the tech investing world at Strategic Tech Investor.