The New York Stock Exchange recently announced that it will no longer accept stop orders (including stop-limit and stop-loss orders) beginning Feb. 26, 2016. That's on the heels of similar announcements from Nasdaq and BATS.
That means that three of the biggest exchanges in the country will no longer allow investors to place stop orders on their trades.
While some brokerage houses are likely to keep them intact to attract retail investors, they will be executed internally rather than on the major exchanges.
Stops were designed to help investors limit their downside risk and protect their profits. They allowed investors to go about their lives with a failsafe in place in the event they were not in front of their trading screens to manage their positions - which, for individual investors like you, is most of the time.
So what are you - the average retail investor - to do? How are you supposed to protect your capital and your profits? Let me offer you a few considerations that will help you (and the capital in your account) survive this move by the major exchanges.
Let's get started...
Why Exchanges Are Ditching Stop-Loss Orders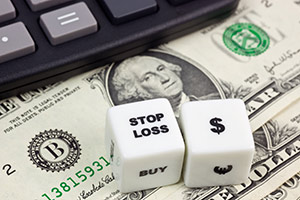 As we've talked about before, a stop-loss order is an order to close a position if it trades to a specific, pre-determined price.
For example, let's say you buy a stock for $42.50 and you set your stop-loss at $42. When the stock trades down to $42, your stop-loss order turns into a market order to sell that stock. The next trade will be yours at whatever the market price is at that time, which may be $42 or a bit less.
If you're using options, a stop-loss order acts in much the same way. Let's say you buy an option at $4.00 and you place a stop-loss order at $3.00. At the time the market trades at $3.00, the market order will automatically be placed and the next trade is where you will sell the option, which may be that $3.00 or less, depending on the market.
The biggest concern with a stop-loss order is the fact that once your order triggers, it turns into a market order. In a fast-moving market, the stop price can be hit and the next price at which the trade will be executed can be much lower and result in bigger losses than anticipated - exactly what you wanted to avoid by using a stop order in the first place.
And sometimes, your position can come back and trade higher on the day after your stop is triggered, making you wish you never got out in the first place.
The stock exchanges want you to believe that is the reason they are eliminating the stop-loss order - because retail investors use them without understanding these two crucial points: that your stop order is a market order once it's been triggered, and you may get bounced out of positions just before they trade higher.
That may be one of the reasons, but it isn't the only one.
You see, stop orders are rarely used - they represent something like 2% of all orders placed on exchanges. Professional traders don't use them because they are in front of their trading screens all day. Stop orders are used almost exclusively by retail investors - that means you.
Remember to check with your brokerage and see how they want you to go about using/placing stop-loss orders with them or through their trading platform going forward.
Or you can consider using these helpful tools instead...
Join the conversation. Click here to jump to comments…
About the Author
Tom Gentile, options trading specialist for Money Map Press, is widely known as America's No. 1 Pattern Trader thanks to his nearly 30 years of experience spotting lucrative patterns in options trading. Tom has taught over 300,000 traders his option trading secrets in a variety of settings, including seminars and workshops. He's also a bestselling author of eight books and training courses.