Editor's Note: We've been following the steady path of the Chinese yuan toward global reserve currency status since the start of the decade, and we've taken some big gains at key stops along the way. But now that the yuan is officially "in," this profit play could be the biggest of all...
It's over...
On Monday, the Chinese yuan gained official approval to join one of the most elite clubs on the planet: the International Monetary Fund's Special Drawing Rights basket of reserve currencies.
The consequences of this move will be huge. For the unprepared, this event will ultimately prove devastating.
But even though we've been expecting this move for years now, we have a limited time to get maximum upside from this development.
So let's move quickly...
China Cements Its Global Position
On Nov. 13, Christine Lagarde, head of the International Monetary Fund, said IMF staff recommended the inclusion of China's currency, the yuan, in the fund's currency reserve basket.
Lagarde left the decision to the Fund's executive board, but by then it was all but official. The IMF had finally determined the yuan to be "freely usable" and sufficiently used in international transactions and forex markets.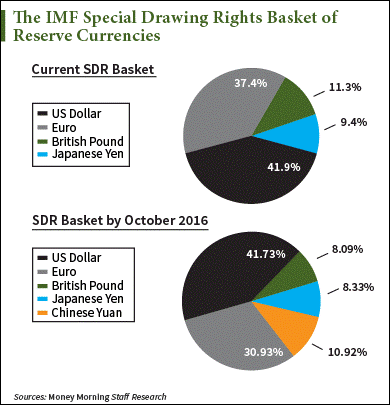 It's an achievement that went from laughable to laudable in less than three decades.
It's easy to see why the IMF felt that China was ready. China's economy is now the world's second largest.
China's accomplishments in that short time are just shy of miraculous: Soaring standards of living, a massive infrastructure buildout, and rapid modernization have left even the biggest doubters shaking their heads.
China hasn't been shy, either, relentlessly pressing its own case to the IMF.
So here we are today. The yuan will be joining the U.S. dollar, British pound, the euro, and the Japanese yen in the IMF's elite Special Drawing Rights basket.
Officially, the yuan will become part of the SDR currency basket only on Oct. 1, 2016. But that just means we have 10 months' head start to profit.
But the profits could be immense. And a lot of players in global finance agree...
Both Standard Chartered Plc. (LON: STAN) and AXA Equitable Insurance estimate that adding the yuan to the SDR currency basket will cause $1 trillion to flow into the currency.
Hayden Briscoe, managing director of Asia Pacific fixed income at asset manager AllianceBernstein Holding LP (NYSE: AB) said, "This should help underpin China's continuing efforts to internationalize the currency and its capital account - moves which, our research suggests, could lead to inflows of up to $3 trillion over the next few years."
HSBC Holdings Plc.'s (NYSE: HSBC) Paul Mackel said that including the yuan in the SDR would encourage China to maintain badly needed financial and capital account liberalization.
Stephen Innes, chief trader at currency firm OANDA Asia Pacific in Singapore, said, "Once investors become more comfortable with Chinese markets, especially if they continue to progress with opening policies and make the same strides they did over the past year, international markets will really embrace Chinese capital markets."
The Best Way to Play the New Yuan
Currently, shares trading in yuan are nowhere to be found in either major emerging market or even Chinese stock indices.
And yet the Chinese stock market has a total market cap of $7 trillion.
Right now, the simplest way to position yourself ahead of the crowd is through the iShares China Large-Cap ETF (NYSE Arca: FXI). FXI was the first Chinese equities exchange-traded fund (ETF), and it invests in 50 of the largest Chinese companies that trade in Hong Kong.
It currently trades at a P/E ratio of just 9, which compares well at less than half the S&P 500's P/E of 19.
It's not quite the same as investing directly in China-listed "A Shares," but the fund carries a somewhat lower risk - with higher liquidity.
It's particularly attractive because as Morgan Stanley (NYSE: MS), steward of the MSCI China Index, moves towards including China-listed shares in its index, it will start with overseas Chinese companies first.
[mmpazkzone name="in-story" network="9794" site="307044" id="137008" type="4"]
Most of these companies are already in the FXI: names like China Mobile Ltd. (HKG: 0941), Industrial and Commercial Bank of China Ltd. (HKG: 1398), China Construction Bank Corp. (HKG: 0939), CNOOC Ltd. (HKG: 0883), and Petrochina Company Ltd. (HKG: 0857).
As trillions begin to flow into the yuan and Chinese stocks, those with front seats will make the most money.
So get a leg up on the investment "herd" and buy FXI now.
Join the conversation! Follow Money Morning on Twitter and Facebook.