A report from The Wall Street Journal last night (Tuesday) has investors asking one important question this morning: Will Yahoo sell its Internet business?
In the report, the WSJ stated that Yahoo! Inc. (Nasdaq: YHOO) will have a series of meetings this week discussing the potential sale of Yahoo's Internet business. The meetings will also host discussions on how to gain the most from its stake in Alibaba Group Holding Ltd. (NYSE: BABA).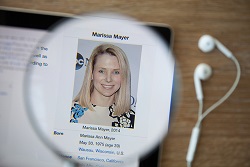 As YHOO shareholders know, these meetings could very well shape Yahoo's destiny. There may be an answer by the end of the week to the question "will Yahoo sell its Internet business"...
You see, CEO Marissa Mayer hasn't created significant shareholder value over the last several years. The reason the YHOO stock price has doubled since she's been there is mostly due to the company's stake in Alibaba. When Mayer first took over Yahoo in July 2012, the YHOO stock price closed at $15.84 on July 31, 2012.
Yesterday, the Yahoo stock price closed at $33.71.
Mayer has attempted to provide value to shareholders beyond Alibaba. Mayer invested in online video and even hired famous journalist Katie Couric as the Global Anchor for Yahoo News.
Hiring Couric was Mayer's biggest attempt to reduce Yahoo's dependence on lagging home page traffic, according to the WSJ. The results aren't clear as to how effectively Mayer's bets on Couric have paid off, but the CEO decided to increase her salary from $6 million to $10 million in June, nevertheless.
Potentially in direct correlation to Yahoo's struggles to innovate, key executives aren't sticking around...
According to a report from Re/code, Mayer told top executives that they had to make a commitment to stay with the company for three to five years verbally or in writing around August and September. Yahoo's most recent loss was Development Chief Jack Reses, who joined Square Inc. (NYSE: SQ) in October.
Over Mayer's reign, there has been nothing to suggest that she will unlock further YHOO shareholder value, and activist hedge fund Starboard Value is breathing down Mayer's neck.
Here's the answer to "will Yahoo sell its Internet business"...
Will Yahoo Sell Its Internet Business? It Depends on the Right Buyer
Yahoo still receives enough traffic from Yahoo Mail and Yahoo News to serve as an attractive takeover for the right company.
Yahoo Mail and Yahoo News collectively are the third-most visited sites on the Internet in the United States, according to the WSJ. These two sites received 210 million visitors in October alone.
Those stats are impressive, but Yahoo has one major hurdle to attract a takeover bid....
Yahoo simply does not have a brand identity, and Mayer has not done anything to fix that. It has great name recognition, but Yahoo lacks a compelling reason for people to use its services.
For a takeover to occur, a company would have to have a very specific reason why it would want to purchase Yahoo's Internet business. The question shouldn't be "will Yahoo sell its Internet business." The real question is if there is actually a buyer out there for Yahoo's Internet business.
Activist investor Carl Icahn pushed Yahoo to sell to Microsoft Corp. (Nasdaq: MSFT) in 2008, but a deal never materialized. Starboard wanted Mayer to consider a merger with AOL, but it was bought out by Verizon Communications Inc. (NYSE: VZ) a few months after the suggestion.
Mayer stated in October that she has a plan to reset the company's focus, but she did not give further details on her plans. It's too late for Mayer to throw ideas at the wall and see what sticks. She has to seriously consider selling Yahoo's Internet business.
But Mayer may find herself in a market without very many bidders. There will be major Yahoo news this week, but it's unlikely that a quick sale will materialize.
Will Yahoo sell its Internet business? Only if a company believes Yahoo's services can realistically increase its bottom line.
[mmpazkzone name="in-story" network="9794" site="307044" id="137008" type="4"]
Jack Delaney is an associate editor for Money Morning. You can follow him on Twitter and follow Money Morning on Facebook.
The Markets Will Crash Again: The cracks are already showing. But the impending collapse is also an opportunity. By understanding these five "Super Crash" inevitabilities and making key adjustments, investors can protect their portfolios from the downside while positioning for the upside. This is your last chance to act before it's too late...