Commodity prices have been decimated in 2015.
We've mostly heard about the decline in energy during 2015. After all, oil and natural gas are two of the most actively traded commodities on the market and are down 33.4% and 38.5% this year as of Dec. 3.
But the decline in oil and natural gas is just the tip of the iceberg. In fact, the entire commodity complex is in much worse shape than the individual energy sector.
As of Nov. 30, here's how all 30 commodities tracked by the S&P 500 have performed in 2015...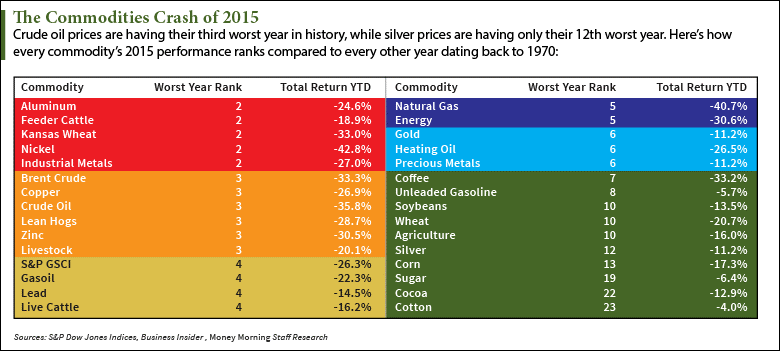 According to Jodie Gunzberg, global head of commodities at S&P Dow Jones Indices, "worst year rank" represents how each commodity's 2015 performance compares to other years. For example, aluminum's worst year rank of 2 means 2015 has been the second-worst year ever for aluminum prices. Cotton prices, on the other hand, are having their 23rd-worst year.
The red group is where most of the damage has been done. Nickel prices are down nearly 43% this year, and industrial metals are about to close out their worst year since 2008.
"Unfortunately for commodities, there's no waking up from this nightmare," Gunzberg wrote in a report.
This year's dismal performance can be mostly attributed to "Black Monday." On Aug. 24, the Dow Jones Industrial Average crashed 1,089 points in its largest intraday decline since 1882.
The Bloomberg Commodity Index, which tracks the prices of 22 raw materials, also fell 1.5% to 86.96 points. That marked the lowest level since Aug. 26, 1999, when the index sank to 86.30.
All commodity prices fell on Black Monday as investors panicked over slowing demand in the world's second-largest economy, China. The Asian nation is the world's leading consumer of energy, grains, and metals. On Black Monday, China's Shanghai Composite Index cratered 8.5% in its worst single-day loss in eight years.
According to Money Morning Capital Wave Strategist Shah Gilani, these perfect storms of crashing commodity prices can form at any moment. That's because any gust of wind blowing through China's markets can send energy, grain, and metal demand sinking.
But Gilani says there are only two commodities to keep an eye on at all times - and if you see them tank, be prepared to run for your life...
Alex McGuire is an associate editor for Money Morning who writes about commodities. Follow him on Twitter for all of the biggest updates on commodity prices.
Like us on Facebook: Money Morning