The European Central Bank announced a number of monetary policy changes Thursday in attempts to spur anemic growth and fend off slack inflation.
And today's ECB decision will have wide-ranging ramifications for investors…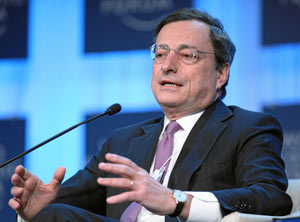 At the ECB's regular policy meeting today, the central bank trimmed its deposit rate further into negative territory. Thursday's additional cut of 10 basis points took the rate down to -0.3% from -0.2%. The ECB also said it will extend its massive 60 billion euro-a-month ($63.5 billion) bond-buying program to at least March 2017.
ECB President Mario Draghi said the central bank will reinvest the principal payments under its quantitative easing (QE) plan. According to Draghi, the move will help liquidity conditions.
The 25-member Governing Council kept its main refinancing rate unchanged at 0.05%. That's the price banks pay to borrow funds from the ECB.
"We are confident that these decisions are adequate to achieve our objective," Draghi said at a news conference in Frankfurt. "The deposit rate cut vastly improves policy transmission."
Draghi added that the ECB has a "menu of options" for the asset purchase program. The plan's parameters will be reexamined again in the spring of 2016.
The ECB decision to hold a QE program first came in March. It was designed to help drive inflation back towards its targeted 2% level and boost liquidity in the Eurozone. Wednesday, Eurostat reported consumer prices in the 19 countries sharing the euro have been stuck at 0.1% year to date.
Draghi stressed that risks to the world economy and to the inflation outlook remain tilted downward. He also didn't rule out implementing other measures if necessary.
Analysts, investors, and markets were looking for a steeper interest rate cut and a larger increase to the ECB's asset purchase program today.
The markets reacted negatively to the ECB decision, as global stocks fell and the U.S. dollar rally fizzled…