The Facebook stock price closed at a 0.8% loss from its opening price yesterday (Wednesday) after CEO Mark Zuckerberg made a very generous announcement. He plans to donate 99% of his FB shares to charity to help cure disease, connect people, and build stronger communities.
Zuckerberg's shares are currently valued at $45 billion, and he plans to donate them throughout his lifetime, according to The New York Times. The money will be handled through an organization Zuckerberg and his wife are establishing.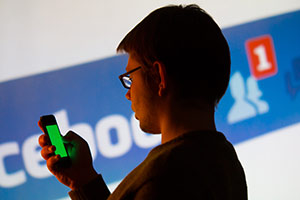 Zuckerberg's donations of Facebook stock are certainly noteworthy, but that isn't the reason the Facebook stock price fell yesterday.
You see, investors are more concerned with Zuckerberg taking a leave of absence from Facebook Inc. (Nasdaq: FB) because of the birth of his daughter, Max. On Nov. 20, Zuckerberg announced on Facebook that he was going to take a two-month leave of absence. Even though the company allows up to four months of leave, FB investors still did not like the idea of Zuckerberg stepping away from the helm for any period of time.
Following his announcement on the weekend of Nov. 20, FB stock opened at $107.19 the next Monday and closed at $106.08.
The Facebook stock price today is experiencing a temporary pullback, but that shouldn't cause FB shareholders to panic.
Facebook's latest earnings report should provide plenty of confidence for shareholders during Zuckerberg's absence. The social media giant reported earnings per share (EPS) of $0.57 on $4.5 billion in revenue. That easily beat Wall Street's expectations of $0.52 on $4.37 billion in revenue.
Aside from strong earnings, Facebook also posted healthy user growth. Facebook reported a 14% gain in monthly active users (MAUs) in Q3 2015 from the same time in 2014, and FB also beat Wall Street's expectations of 992 million daily active users by reporting 1.01 billion users.
You see, Zuckerberg has built Facebook up on sound fundamentals. He dominates the social media landscape, and he hasn't even monetized his 2014 purchase of WhatsApp, a messaging service with 900 million users as of September.
Facebook is also gearing up for a highly anticipated product. The potential revenue generation from this launch is astonishing, and management consulting firm Digi-Capital expects this product's industry to generate $150 billion in revenue by 2020.
When it's released, this product could add billions of dollars to Facebook's bottom line. Here's what it is…