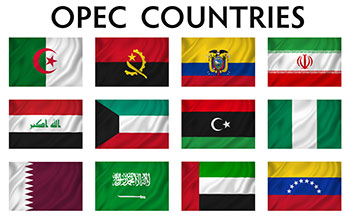 With the 168th OPEC meeting on Friday, many investors are wondering why the OPEC meeting matters. After all, the last OPEC meeting saw no major outcomes as the cartel decided to maintain its high production levels. Many energy investors believe the cartel will stay true to that policy again this week.
At this point, most investors expect the same outcome at every OPEC meeting. That's because the 12-member organization has been stubborn toward reducing output recently.
OPEC's strategy has been to produce as much as possible to protect market share and hurt the United States and Russia - no matter how low prices go. The last meeting in June marked the second time since November 2014 that the cartel decided to keep its stringent strategy.
Since June, oil prices have crashed 31.5%. That means the stakes are even higher for this OPEC meeting as officials try to figure out how to stop prices from crashing to catastrophic levels.
But there are two other huge reasons why the OPEC meeting matters...
Why the OPEC Meeting Matters Reason No. 1: Supply Needs to Shrink
The world is currently drowning in crude oil.
As of Nov. 27, U.S. inventories sit at 489.4 million barrels, the highest level in 80 years. It could come close to surpassing the 500 million mark by the end of the year. According to the International Energy Agency, global oil supply hit 3.01 billion barrels in October.
The OPEC meeting will likely be tense as desperate members like Venezuela and Libya plead with large members like Saudi Arabia to cut output.
You see, the export-driven economies of Venezuela and Libya can't survive on $40 oil prices for long. On the other hand, Saudi Arabia has hundreds of billions of dollars in the bank. That's enough to keep its struggling oil industry afloat for a longer period of time.
Any changes in production policy will be left up to Saudi Arabia. The country is the de facto leader of OPEC and the cartel's biggest producer. It makes up about a third of the cartel's total monthly output.
However, the chances of the Saudis cutting production remain slim. State officials have repeatedly said the country has no plans to lower output.
"The only thing to do now is to let the market do its job," said Khalid al-Falih, the CEO of government-owned oil giant Saudi Aramco, to the Financial Times on Nov. 9. "There have been no conversations here that say we should cut production now that we've seen the pain."
Since November 2014, OPEC has said it's sticking to a daily quota of 30 million barrels.
But the cartel has been lying. In fact, the 12 countries have been producing well above that ceiling all year now.
This chart shows how much oil OPEC has really been producing in 2015...