Uber Technologies Inc. is currently seeking $2.1 billion in funding, which would value the company at $62.5 billion.
Although there isn't a date set for an IPO, the hype from this valuation will inevitably drive up the Uber IPO price when it does come to market.
Uber CEO Travis Kalanick stated that the company wasn't mature enough to go public, but the Uber IPO is still the most anticipated IPO of 2016. After all, the company has already raised $7.4 billion even prior to this recent funding round.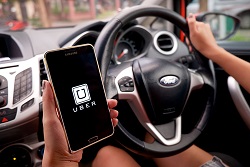 Through this newest round of financing, Uber will fund its international expansion plans, according to Bloomberg.
And Uber hasn't exactly had a hard time finding investors in 2015 either…
It received $1.6 billion from clients of Goldman Sachs Group Inc. (NYSE: GS) in January, and followed that with a $1 billion investment from Microsoft Corp. (Nasdaq: MSFT) in July.
Uber is a disruptor to the transportation industry, and investors are lining up to be a part of something new and exciting.
In Q1 2015, business spending on Uber accounted for 46% of the entire transportation market. That's triple the reach of Uber's 15% market share in Q1 2014.
But like many initial public offerings, the Uber IPO price will be based on speculation and excitement.
Uber officials say the company had $400 million in revenue in 2014. If Uber reaches a $62.5 billion valuation, that means the company is valued at 150 times revenue.
A $62.5 billion valuation would also make Uber bigger than major companies like Twenty-First Century Fox Inc. (Nasdaq: FOX), Ford Motor Co. (NYSE: F), and Time Warner Inc. (NYSE: TWX).
Since there is no timetable for the Uber IPO, it's still too early to project an exact Uber IPO price.
But based on the hype surrounding recent IPOs, it's likely the Uber IPO price will be high. Shortly after the Ferrari NV (NYSE: RACE) IPO, the stock climbed all the way to $60.97. And Ferrari is only worth $9.2 billion compared to Uber's $62.5 billion.
While we wait for the Uber IPO date, there is one simple strategy that can help investors profit from the IPO market months before Uber stock is available…