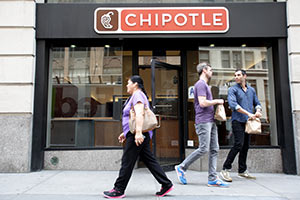 The CMG stock price fell 3.35% by mid-afternoon trading today (Monday) after a report from the Centers for Disease Control and Prevention Friday said Chipotle's E. coli outbreak has spread to new states.
The E. coli outbreak has now spread to California, Minnesota, New York, Maryland, Pennsylvania, and Ohio. Cases were first discovered in Oregon and Washington in early November. The Associated Press reports that 52 individuals have been sickened by the outbreak.
Since closing on Oct. 1 at $724.43, the CMG stock price has now plummeted 28.9% to today's low price of $515.
Chipotle Mexican Grill Inc. (NYSE: CMG) told investors in a regulatory filing that sales could decrease even further as more cases are discovered.
Money Morning Technical Trading Specialist D.R. Barton warned our readers that the CMG stock price would continue to fall before Thanksgiving. Since then, CMG stock is down 11.87%.
While some investors may view this as an opportunity to build up a discounted position in CMG stock, there is still a one major reason why the CMG stock price will continue to fall…
The CMG Stock Price Will Continue to Fall Into 2016
The CMG stock price will continue to plummet until the source of the E. coli outbreak is identified.
Without an identifiable source, Chipotle cannot even begin to estimate the scope of the outbreak. As more and more cases are reported, it means Chipotle has less control of the situation.