Instead of fighting the hordes over Thanksgiving weekend – either online or at the mall – I found myself new car shopping.
While I figured my "ski mobile," a 2005 Acura MDX SUV, could last another two years or so, there I was, steering into a dealership about half an hour from the Robinson household.
And there I saw a brand-new 2016 MDX on the showroom floor.
What can I say? It called to me.
But what does this have to do with tech stocks – what I assume you're here for?
As the salesman showed me such features as integrated Bluetooth, voice-activated navigation, and touch-screen "infotainment," I realized I was shopping for technology as much as I was shopping for a new car.
My inner "gadget geek" kicked in – and I had to take the MDX out for a spin.
And after cruising around and checking out some of the Super Handling advanced driver assistance systems (ADAS), I was hooked – and picked it up.
I'm far from alone. Millions of consumers cite advanced auto technologies as a key reason they're buying or leasing now.
Today, I'm going to show you how to profit from this massive trend.
No, I'm not recommending Acura (or any other carmaker).
But I've found a small, little-known firm whose technology is already in 25 million vehicles on the road today.
And that number's only going to soar as our cars and trucks advance further…
"Smartphone on Wheels"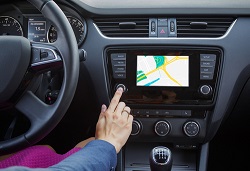 I've been following the car industry for decades.
Before I found my way to Silicon Valley, I was a top auto analyst in Detroit in the early 1980s. As such, I traveled the world to talk with senior industry executives, car dealers, plant managers, union leaders, and even everyday car buyers.
And I still follow the industry closely because cars are such a big driver of the global tech industry. That's because they're full of semiconductors, sensors, and software.
In my more than 30 years of following the industry, as you might expect, the emphasis on tech features has only increased.
But here's what you might not expect.
We're in the middle of an auto sales boom that might end up the biggest in history.
Consider this.
November was the third consecutive month in which the domestic car industry had an annualized sales rate of 18 million cars – the highest such rate ever.
The industry analysts at TrueCar Inc. (Nasdaq: TRUE) and Edmunds.com Inc. say it would take a very weak December for the industry not to beat the record it set back in 2000, when U.S. auto dealers sold 17.4 million cars and trucks.
Not only that, but here's what I think.
Even if the U.S. Federal Reserve raises rates this month, as many expect it to do, car sales will increase even further next year.
I'm not alone in this prognostication.
LMC Automotive just raised its 2015 forecast by 200,000 units to 17.5 million. LMC says that 2016 sales could rise even another 300,000 units to 17.8 million cars and trucks.
Technology is playing a major role in this boom in auto sales.
Earlier this year, The New York Times analyzed the new-car boom and said high tech has become an irresistible lure.
According to the Times, consumers are now leasing in record numbers so they can keep pace with the technology. Leasing now accounts for 27% of auto "sales," up 18% from just two years ago.
"The automobile is evolving from just a machine to take people where they need to go," the Times reporter wrote, "to a 'smartphone on wheels' that is as much about the tech experience as the driving itself."
The Latest Unstoppable Trend
Join the conversation. Click here to jump to comments…
About the Author
Michael A. Robinson is one of the top financial analysts working today. His book "Overdrawn: The Bailout of American Savings" was a prescient look at the anatomy of the nation's S&L crisis, long before the word "bailout" became part of our daily lexicon. He's a Pulitzer Prize-nominated writer and reporter, lauded by the Columbia Journalism Review for his aggressive style. His 30-year track record as a leading tech analyst has garnered him rave reviews, too. Today he is the editor of the monthly tech investing newsletter Nova-X Report as well as Radical Technology Profits, where he covers truly radical technologies – ones that have the power to sweep across the globe and change the very fabric of our lives – and profit opportunities they give rise to. He also explores "what's next" in the tech investing world at Strategic Tech Investor.