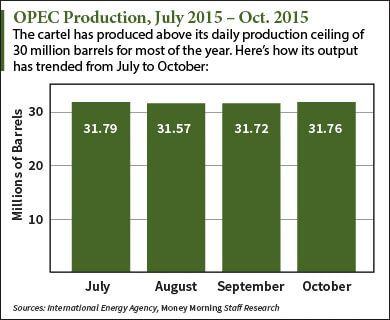 At 9:25 a.m., WTI crude oil prices today (Monday) were trading at $38.66 a barrel. That's a drop of 3.3% from Friday's closing price of $39.97.
WTI crude oil prices dropped today due to fear of the appreciating U.S. dollar and because of OPEC's major announcement at its semi-annual summit last week.
On Dec. 4, the U.S. benchmark fell by 2.7% following the OPEC announcement. Brent crude oil, the global benchmark, fell 1.9% on Friday and is down 3.2% today.
Here's more on the two reasons why WTI crude oil prices are down today…
Why Are WTI Crude Oil Prices Dropping Today?
The appreciation of the U.S. dollar is driving down WTI crude oil prices today. Because the United States added more jobs than expected in November, an interest rate hike will likely take place at next week's U.S. Federal Reserve meeting. That has sent the U.S. dollar to 98.63 at 11 a.m. today, which is near its 52-week high of 100.51.
The appreciation of the U.S. dollar makes crude oil more expensive for importers.
But the U.S. dollar isn't the only reason WTI crude oil prices are falling. Investors are very concerned about OPEC's recent meeting.
Oil prices started to fall on Dec. 4 after OPEC surprisingly decided to raise its production ceiling. Analysts projected the cartel would keep production at 30 million barrels, but OPEC said it would raise its production ceiling to 31.5 million barrels a day.
The announcement is consistent with OPEC's strategy of producing as much oil as possible to protect market share. The message showcases the aggressive moves to send WTI crude oil prices lower to edge out U.S. and Russian producers.