Some of the next best tech picks to add to your portfolio will be driverless car stocks.
Growth in driverless car technology has already started – but will really take off over the next 10 to 20 years as vehicles become more "connected."
"The car is going to become a computer on wheels," NVIDIA Corp. (Nasdaq: NVDA) CEO Jen-Hsun Huang told The Wall Street Journal in March. "This is going to be a large business."
A Boston Consulting Group report in April estimated that the global market for driverless car technology will skyrocket to $42 billion by 2025 and then nearly double to $77 billion by 2035.
Many investors will try to play driverless car stocks by going after companies like Alphabet Inc. (formerly Google Inc.) (Nasdaq: GOOGL, GOOG) or Tesla Motors Inc. (Nasdaq: TSLA). But those obvious picks aren't the best way to play this promising category.
For the strongest driverless car stocks, think smaller – as in the semiconductor industry.
Why Driverless Cars Are a Huge Opportunity for Chipmakers
Not many people realize how pervasive technology already has become in automobiles. Today the typical car contains about $334 worth of semiconductors.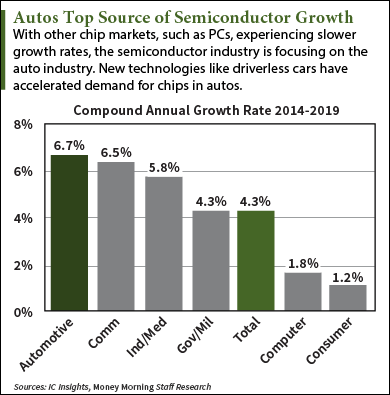 And it's expected to rise steadily over the next few years. Research firm Gartner forecasts that figure will grow to $368 by 2018.
But new technologies, such as hybrids, electric cars, and driverless cars, require a lot more high-tech chips. For example, a hybrid electric car today contains about $600 worth of semiconductors.
Driverless car tech is just starting to find its way into new car models. Semiconductor Manufacturing and Design estimates that partial automation will add another $100 worth of chips to an auto. A partially automated car can control and combine at least two primary functions, such as cruise control and lane centering.
High automation will add $400. A highly automated car will be able to drive itself most of the time, with a human taking control only when needed. Full automation will add $550 and describes a car that requires no human intervention other than a destination.
Driverless tech growth definitely has the attention of the semiconductor industry. Chipmakers see rising tech demand from the auto industry as a way to compensate for slowing growth in the PC and smartphone markets.
It was a major factor in NXP Semiconductors NV's (Nasdaq: NXPI) decision to buy Freescale Semiconductor Ltd. (NYSE: FSL) for $11.86 billion in a deal that closed yesterday (Monday).
With Freescale on board, NXP's auto-related sales will double to 40% of total revenue. It also makes NXP the No.1 supplier of automotive-related chips in the world, vaulting it ahead of Tokyo-based Renesas Electronics Corp. (OTCMKTS: RNECY).
But NXP is just one of several driverless car stocks that will cash in on this trend. Here's the rest of the list…