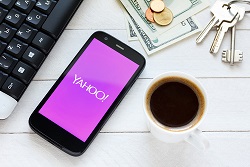 A new candidate to take over Yahoo's Internet business just emerged, but the YHOO stock price hasn't reflected optimism that an acquisition will materialize.
According to The Washington Post, Verizon Communications Inc.'s (NYSE: VZ) CFO Fran Shammo said Verizon could be interested in buying Yahoo's Internet businesses. But Shammo was vague, saying a deal would only happen "if Yahoo is right."
So far, the acquisition rumors haven't provided any momentum for the Yahoo stock price...
The Wall Street Journal first announced Yahoo planned to sell its Internet Business on Dec. 2, and the YHOO stock price has dropped 0.02% since. The YHOO stock price was trading at $34.55 early this afternoon, 0.37% below its closing price of $34.68 yesterday.
Amid pressure from activist hedge fund Starboard Value, CEO Marissa Mayer is exploring opportunities to unlock more value for Yahoo! Inc. (Nasdaq: YHOO) shareholders. Mayer has more than doubled the YHOO stock price from its closing price of $15.84 at the end of July 2012, when she first took over.
But several unsuccessful campaigns have limited the value of YHOO stock for shareholders in recent years...
Mayer has attempted to reduce Yahoo's dependence on its worn home-page traffic, but her vision has not added to Yahoo's bottom line. Since 2012, Yahoo's revenue has decreased by 7.97%.
The CEO's biggest move was hiring well-known journalist Kate Couric as the Global Anchor for Yahoo! News. It's not clear how well the move has paid off, but Mayer still decided to increase Couric's salary from $6 million to $10 million in June.
Mayer stated in October that she has a plan to change Yahoo's focus. But investors can't wait any longer for Mayer to try and increase Yahoo's profitability.
The lack of progress from Mayer is a red flag for YHOO shareholders. But there was a huge warning sign in the last year that the YHOO stock price is headed for a downward spiral...