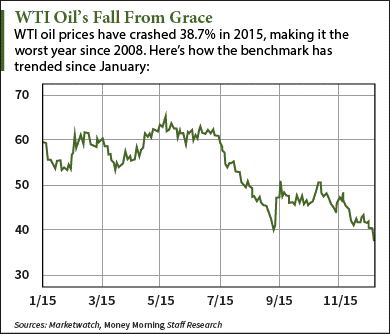 Will oil prices keep falling?
That's the biggest question investors are asking right now as oil hovers at its lowest level since February 2009.
At 8:50 a.m. today (Tuesday), WTI crude oil prices were down 2.3% and trading at $36.79 a barrel. The U.S. benchmark cratered 5.8% yesterday to settle at $37.65 – the largest one-day loss since September. Futures are now down 38.7% in 2015.
Brent crude oil prices also saw early morning volatility. The global benchmark fell 2% to $40.36 a barrel. It's now down 39.5% for the year.
Oil prices kept falling today as investors remain wary of a global supply glut after the Dec. 4 OPEC meeting. Last Friday, the 12-member cartel decided to raise its production ceiling to 31.5 million barrels a day. The move is part of OPEC's strategy to produce at a record pace to protect market share and hurt competitors.
The decision to raise the ceiling was a surprise and sent prices below the $40 mark. That leaves investors on edge moving into 2016.
With all of this bearish supply news pulling down prices, energy investors are wondering if oil prices will keep falling as we move into 2016…
Will Oil Prices Keep Falling Next Year?
According to Money Morning Global Energy Strategist Dr. Kent Moors, OPEC's excess production will only have a short-term effect on prices.
That's because increasing global demand will overshadow any supply boost and send prices on a long-term rebound…