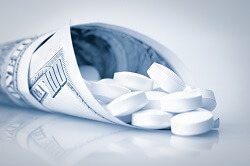 Rocketing prescription drug costs garner daily attention lately...
A Kaiser Health Tracking Poll released in August revealed that 72% of Americans feel that drug costs are unreasonable. Seventy-four percent suspect drug companies put profits before people.
These sentiments are understandable given the average cost of a brand-name cancer drug in the United States is around $10,000 a month - double the level from a decade ago, according to data firm IMS Health.
What's behind the dramatic drug price increases in 2015?
There are several factors that go into drug pricing. There's research and development and operating costs. Sometimes actual shortages in medication are to blame, brought on by manufacturing issues and market consolidation.
But more often than not, "pharmaceutical price gouging" is the chief culprit behind high drug prices.
Such was the case with Daraprim, a toxoplasmosis drug manufactured by Turing Pharmaceuticals. On Sept. 20, the price of the 62-year-old drug jumped from $13.50 to $750 per pill overnight thanks to Turing CEO Martin Shkreli, who's since become one of the most hated executives in America.
Daraprim wasn't the first drug to suddenly see its price inflate this year, nor was it the last. You see, there is currently no regulating body that oversees drug prices. That's why a handful of price gouging instances were egregious enough to not only make headlines this year, but also to spur Congressional action.
Here's a look at four of the most outrageous drug price increases this year...