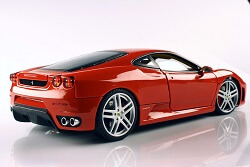 Ferrari NV (NYSE: RACE) stock is down 13.4% during its two-month period as a public company. And our Ferrari stock price prediction shows further decline over the first three quarters of 2016.
Many investors thought Ferrari stock would skyrocket after the company's highly anticipated market debut. On Oct. 21, the Ferrari IPO raised $893 million by selling 17.2 million shares for $52 each. According to Renaissance Capital, a manager of IPO-focused ETFs, the deal ranks as the fourth-largest IPO of 2015 and the largest from the consumer goods sector.
The Ferrari stock price was up as much as 17% during its first day of trading. Shares of RACE closed at $55, marking a 5.8% gain from the $52 IPO price.
But the gains didn't last more than a week...
On Oct. 28, Ferrari stock closed below the IPO price at $51.87 after four straight days of losses. Shares have fallen 8.2% since and closed at $47.62 on Dec. 8.
And we only see the Ferrari stock price heading lower in 2016. Here are the two biggest reasons why...
Two Reasons Why Our Ferrari Stock Price Prediction Is Bearish
Bearish Ferrari Stock Price Prediction Reason No. 1: An "Intangible" Valuation
After pricing at $52 a share, Ferrari commanded an $11.3 billion valuation. That's way too high for an automaker like Ferrari. After all, it's roughly 43 times larger than the company's total profit in 2014.
And the reason behind the huge valuation is the company's luxurious brand, not strong financials.
According to the company's U.S. Securities and Exchange Commission filings, Ferrari views itself as a luxury company rather than a car company. In fact, the word "luxury" appears in the IPO filing 151 times.
This chart shows why Ferrari's "luxury" valuation doesn't add up...