The Volkswagen stock price climbed more than 6.5% today, and it's now up more than 36% from its 52-week low of $22.71.
But don't expect the Volkswagen AG (OTCMKTS ADR: VLKAY) stock price rally to continue in 2016...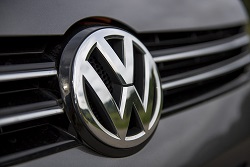 Today's rally for the Volkswagen stock price came after the company announced late Wednesday that it doesn't expect the emissions scandal of 2015 to affect earnings as much as once anticipated. The company didn't offer specifics, except that the $2.2 billion figure initially estimated may be too high.
Even if the earnings damage is less than anticipated, Volkswagen still has a major problem. And the fines, lawsuits, and the large blot on VW's once-stellar reputation will plague the automaker next year and beyond.
In September, Volkswagen admitted that as many as 11 million of its diesel vehicles worldwide had software that could cheat nitrogen oxide emissions tests. The company will need to recall some 500,000 cars in the United States and about 8.5 million in Europe.
The scandal has already put a serious dent in VW's sales worldwide and greatly impacted the Volkswagen stock price:
Volkswagen vehicle sales tumbled 25% year over year (YOY) in the United States in November.
VW vehicle sales in the United Kingdom plunged 20% in November YOY. That followed a 10% decline in October. Official figures from the Society of Motor Manufacturers and Traders showed VW sold 12,958 vehicles in the UK last month. That compares to the 16,196 vehicles sold in the same period a year ago.
In Great Britain, VW's fourth-biggest market, its share of vehicle sales slipped to 7.2% from 9.4% YOY.
In VW's home market of Germany, sales declined 2% in November. The modest decline was likely due to "some element of patriotism," according to Euromoniter. But even the modest 2% decline was stark given the overall auto market grew 8.9% last month in the country.
In France, November sales rose 4.4%, limping behind the overall market's robust 11% growth.
In China, VW's biggest market, sales grew an uninspiring 1.8% in October compared to the overall market's 11.8% growth.
The smaller drop across Europe could be due to the fact that cars in the region are ordered ahead of time and delivery often takes months. So cars registered as sold in November were actually ordered well before the scandal was made public.
The Volkswagen stock price has fallen 28% in 2015, even with today's rally. And VW stock will keep sliding from here.
That's because more damaging news about the scandal continues to surface...